Facilities
To enhance the college's learning and teaching activities towards an international standard, construction projects have been launched and implemented.  The current music campus includes many facilities which can be described below.  The College of Music's main campus in Salaya can be divided into east and west sides of the campus.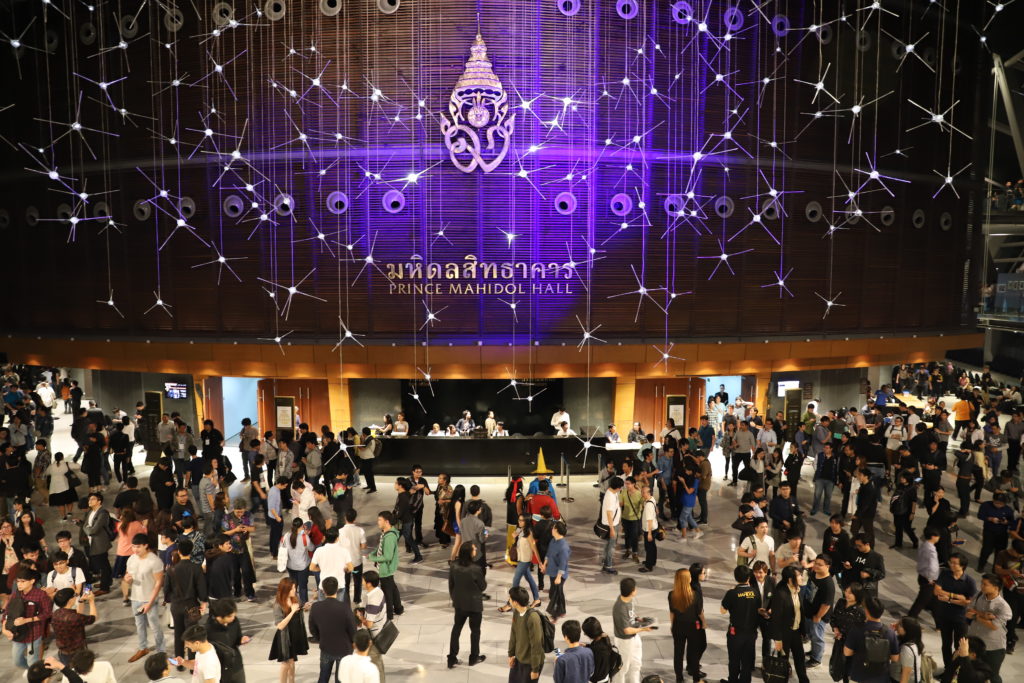 East Campus: Located in the eastern part of College of Music, "Bhumibol Sangkeet" consists of three jointed connected buildings – Building A, B, and C. A five story Building A (completed in 2001) consists of teaching rooms and facilities, administrative offices, and cafeteria, with total floor space of 12,244 square meters.  A three story Building B (competed in 2005) covers a floor space of 4,653.50 square meter and includes the Music Auditorium (MACM) (353 seats).   Known as the Music Library Building, Building C has three stories and covers a floor space of 2,355.20 square meters, consists of the music library and offices.  In the center of these three connected three buildings are an oval-shaped amphitheater concert stage used occasionally for music performances.
West Campus was awarded Gold Medal Prize for Best Architecture (institution building category) from Siam Architecture Association under the Royal Patronage, a five story Building D (completed 2008), covers an area of 8,031 square meters and consists of teaching rooms, restaurant, and Artist Residency. The area also includes a Music Arboretum, which is an area for outdoor music performance.
Construction development in the north campus includes a nine story Pre-College Boarding School (29,000 square meters), which is for teaching and learning, as well as boarding facilities for pre-college students.  The seven story South East Asia Music Museum with a floor space of 27,000 square meters is under construction.  However, the Museum's educational area on the 2nd floor was completed and opened for lectures and seminars since mid-2016.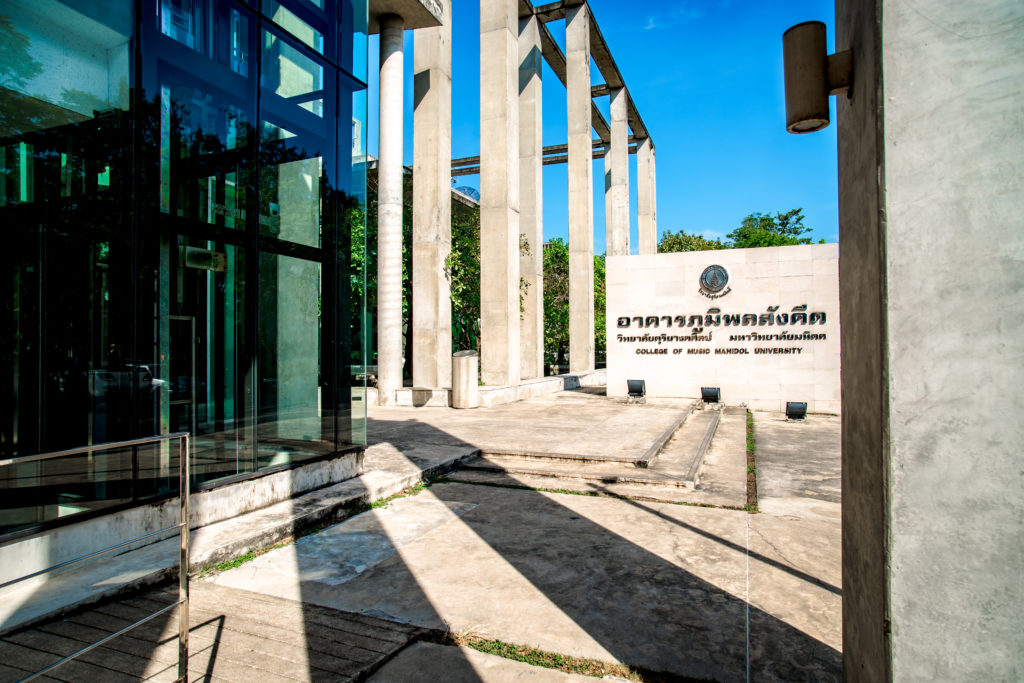 The College has been assigned since 2015 by Mahidol University to manage "Prince Mahidol Hall" (construction completed on 2014), a 2,016 seat hall with 144-car underground parking facility and floor space of 26,470 square meters.  Having received a Gold Medal Award from Siam Architecture Association (Specially Structured Building category) in 2014, Prince Mahidol Hall is currently used for orchestral performances ("Home of Thailand Philharmonic Orchestra"), opera, music theater, seminar, and commencement ceremonies.  Mahidol University began construction in February 2017 on a building to provide an additional 1,000 car parking facility, a community mall, and a 500-seat convention hall for meeting, seminar, and events.
The above development in construction projects reflects the growing number of programs, students, instructors, and various types of activities held by departments, including conferences, workshops and masterclasses, music competitions, concerts and recitals, among others.  Development is also in response to Thailand Philharmonic Orchestra's rehearsal and performance schedules, which are planned for three years in advanced.  Prince Mahidol Hall is also used for the performance schedules of many world class orchestra, such as Tokyo Philharmonic Orchestra and BBC Symphony Orchestra, following the college strategy of "Bring the World to Salaya".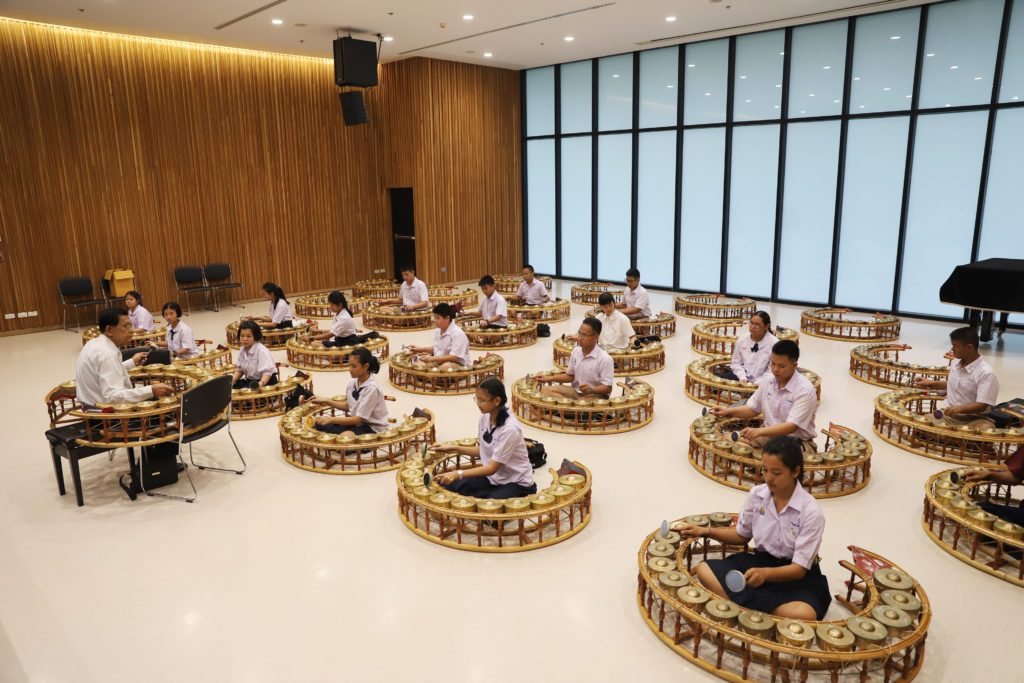 Designed and built with state of art architecture, with consideration to appropriate acoustic system, College of Music's facility construction are now capable of sufficiently servicing the college's teaching and learning activities, including teaching and practice studios, class rooms, rehearsal spaces, and concert venues.  The building facilities are also capable to serve various music activities both in the national and international levels..  To effectively serve instructors, students, and staffs, room reservations can be done through COMMAS System.
College of Music also rents off-campus educational areas known as Center of Music Campus for General Public (MCGP). Currently, there are three MCGP branches located in the central business district, including;
Seacon Square Srinakarin (completed in 2000) with floor space of 1,150 square meters.
Siam Paragon (completed in 2006) with floor space of 997 square meters.
Seacon Bangkae (completed in 2013) with floor space of 1,750 square meters.
College of Music was also donated land in Pattaya, a seaside resort city located in the eastern seaboard of Thailand, approximately 150 kilometers from Bangkok) for a construction of an Orchestra Academy (currently in the design process), which will also be used for music camps, meetings, and seminars.