Support Mahidol Music
Mahidol Music students are developing the leadership skills, entrepreneurial experience, and artistic excellence they need to change the world, and with your support, they'll have access to the tools and resources they need to accomplish their dreams and more.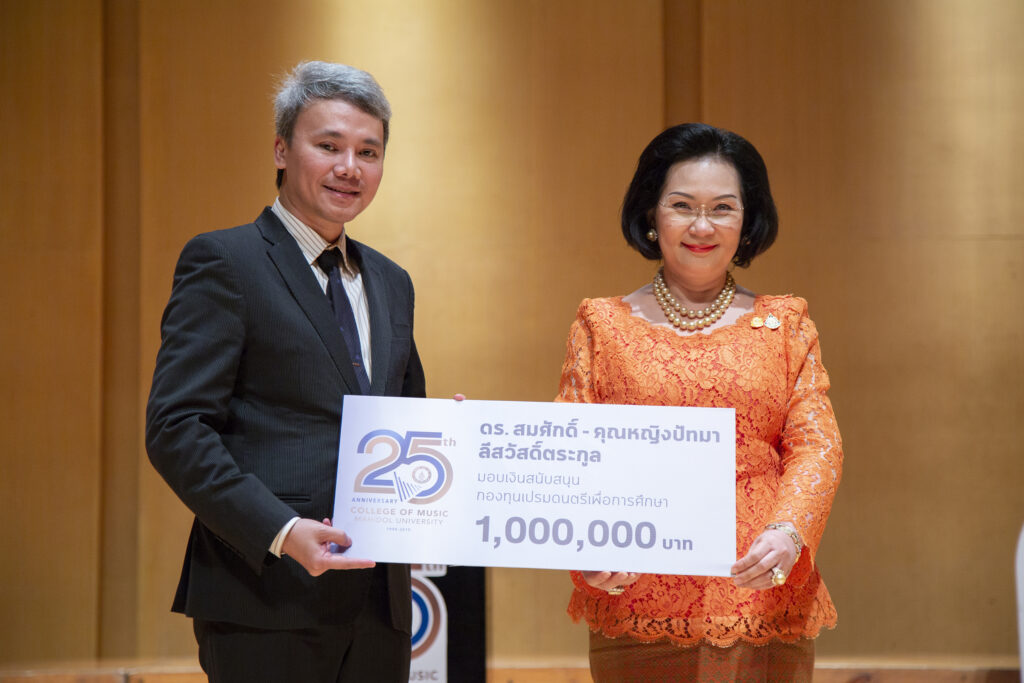 Ways to Support
Your gift to us can be designated to a number of high priority programs. Contact us to learn more about the different ways that you can make a difference to our students and faculty.

Development Fund
The College of Music welcomes contribution from individuals and corporations to encourage and retain the best and brightest young artists in Thailand.
Scholarships
By supporting scholarships you can actively play an integral role in helping students.
Endowments
The College operatives several endowments including the "General Prem Music Scholarship Fund" and the "Land of Smiles" Thailand Philharmonic Orchestra Fund that provide ongoing support to the College and its educational mission.
Corporate Sponsorships
The College's "Corporate Club" aims to provide a platform for business leaders and individuals to appreciate and support the work of our students, and at the same time network and socialize with business associates and friends.
Your Impact
When you give a gift to Mahidol Music, it has a lifelong impact. Each gift – big or small – has the power to make a difference and provide our students and faculty with an environment that encourages artistic excellence.
A gift to The College of Music, Mahidol University is an investment in the future of music. We count on your generosity to help further the School's mission of excellence in performing arts education. Please contact us via the information below for information about various ways to make a contribution to the school.
By telephone:
(+66)2 800 2525, ext. 3110 for:
Mr. Piyapong Ekrangsi
Assist. Dean for Marketing and Communications
By e-mail:
piyapong.ekr@mahidol.edu
By mail:
Office of Marketing and Communication
College of Music, Mahidol University
25/25 Phutthamonthon Sai 4 Road, Salaya, Phutthamonthon, Nakhonpathom 73170