Date
Date(s) - 22/04/2020 - 02/05/2020

Location
Pre-College and Boarding School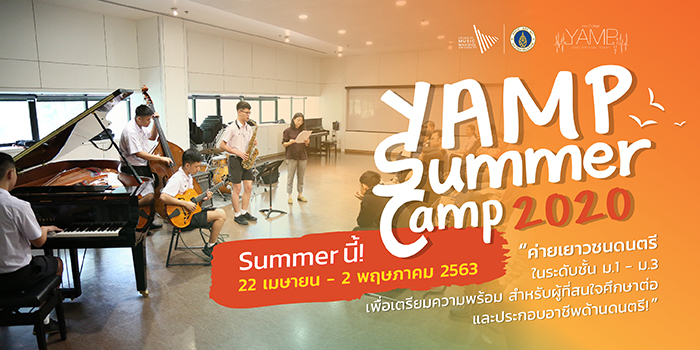 Many internationally experienced and qualified teachers, a highly experienced support staff and world class facilities are waiting for you this summer!
Are you studying an instrument and love music? Thinking that maybe it would be a good way to spend your life, making music and being a creative person?
The intensive YAMP Summer Camp is a great way to find out:
• Improve your performance and practice skills
• Develop your chamber music
• Play in a large ensemble
• Hone your music theory and ear skills
Requirement
1. Currently study in Grade 7 – 9
2. Interested in studying at Young Artist Music Program or to develop music skill with the international standard of teaching 3.
Condition
1. Successful applicant pass the audition
2. Applicant must be able to bring their own instrument except Piano, Percussion and Amplifier
3. For boarding successful applicant, must bring your own personal belongings such as pillow, sheet, blanket etc.
Open for students who play the following instruments
Classical Instruments
Piano, Voice, Guitar, String (Violin, Viola, Cello, Double bass), Harp, Woodwind (Recorder, Flute, Oboe, Clarinet, Bass Clarinet, Bassoon, Saxophone), Brass (Trumpet, Trombone, Tuba, Euphonium, French Horn), Percussion
Composition
Jazz
Saxophone, Trumpet, Trombone, Electric Guitar, Electric Bass, Double Bass, Piano, Drum Set
ดนตรีไทย
จะเข้ซอสามสาย ซออู้ซอด้วง ขิม ระนาดเอก ระนาดทุ้ม ฆ้องวงใหญ่ ฆ้องวงเล็ก ปี่ขลุ่ย เครื่องหนัง คีตศิลป์ไทย เครื่องดนตรีพื้นบ้าน
Application Procedure
1. Complete the online application form
2. Audition result will announce on 20th March 2020 by the given contact
3. Complete the payment process by 27th March 2020
Summer Camp Fee
22,500 THB for day camp (Price include 3 meals, lessons, activities)
30,000 THB for Boarding camp (Price include 3 meals, lessons, activities and dormitory)