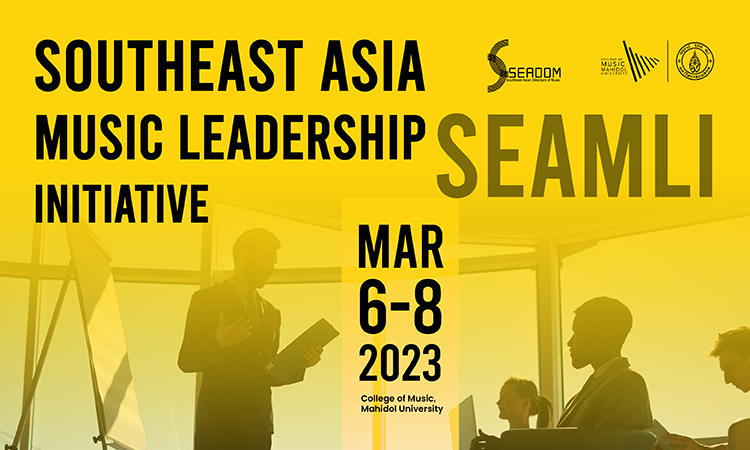 Register now! https://www.music.mahidol.ac.th/seamli/
We would like to invite everyone to the first Southeast Asia Music Leadership Initiative of 2023 from March 6-8, cohosted by the College of Music, Mahidol University and SEADOM – Southeast Asian Directors of Music Association.
About:
A three-day certificate training program that allows you to collaborate with similarly creative and committed musicians from around the Southeast Asia region and beyond. Each day you will have keynote presentations, workshops, and case studies dedicated to specific topics. Along the way, you get first-hand experience developing skills and tools you need to be a future leader. The final day focuses on a shared platform for you to present your next music project idea to our Initiative faculty.
Who is it for?
This intensive experience is capped at 50 participants and is right for you if you are a student enrolled in a collegiate music program or a music leader already making your mark in your community and region. You're someone who has a desire to make change, feels called to music training, passionate about your community, and committed to developing the skills required to face the challenges of the world of music today. You are the future of Southeast Asia music!
Why join?
Participants accepted into the Initiative will work with world class music leaders, educators, and musicians in learning activities, case studies, and workshops that are immersive, interactive and invite your participation. Projects that come out of this will be promoted/shared/etc by SEADOM – Southeast Asian Directors of Music Association (Crowdfunding) (Advisor Pairing – with projects – meet with 2 out of