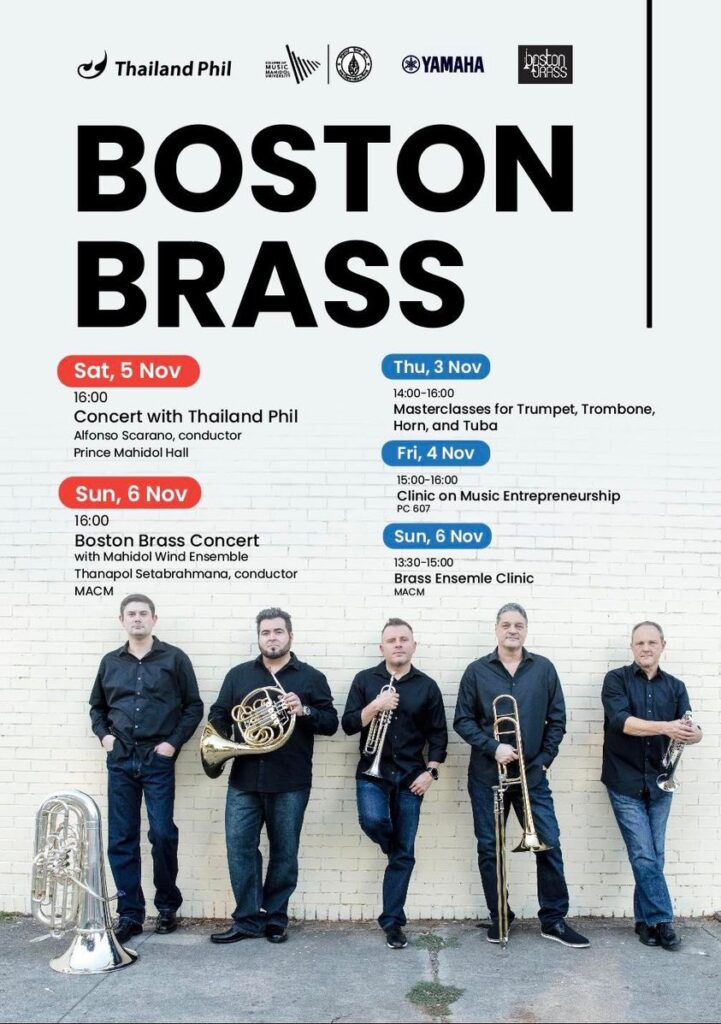 Boston Brass live in BKK 2022 presented by Siam Music Yamaha Co., Ltd. Yamaha Band & Orchestra, Team Thailand, Thailand Philharmonic Orchestra and College of Music, Mahidol University
Brass players don't miss out! Join us for the Masterclass, Clinic and Concert by worldclass artist, Boston Brass #YamahaArtists
Jeff Conner, Trumpet
Jose Sibaja, Trumpet
Chris Castellanos, Horn
Domingo Pagliuca, Trombone
William Russell, Tuba
On 3-6 November! at the College of Music, Mahidol University
Thursday 3 Nov.
14.00-16.00 Boston Brass Masterclasses
Young Artist Music Program Building
Trumpet – PC 607
Horn – PC304
Trombone – PC212
Tuba – PC308
*Free of Charge for Observe Attendees.
Friday 4 Nov.
15.00-16.00 Music Entrepreneurship Clinic by Jeff Conner
YAMP Pre-College Building PC-607 https://bit.ly/3eNmCnX
*Free Admission.
Saturday 5 Nov.
16.00 Concert with @Thailand Phil
Music of John Williams, Piazzolla, Gershwin, Rimsky-Korsakov, and De Falla
Alfonso Scarano, conductor
Prince Mahidol Hall https://bit.ly/3SlDkZ9
*Meet the exhibition booth from Yamaha Band & Orchestra at the foyer of Prince Mahidol Hall
*Concert program and ticket booking information
www.thailandphil.com/events/boston-brass-2022
Sunday 6 Nov.
13.30-15.00 Brass Ensemble Clinic by Boston Brass
16.00 Boston Brass Concert with Mahidol Wind Orchestra
Dr.Thanapol Setabrahmana, conductor
Attendees are required to show ATK test result within 24 hours to join the events (except Concert with @Thailand Phil)
*Meet the exhibition booth from Yamaha Band & Orchestra at the foyer of MACM
MACM https://bit.ly/3VJmQgu
*Concert tickets can be reserved at: Booking Information 028496565 Ext 6604,6609
Email: mshall@mahidol.ac.th
Adults 400 | Students 200 | Groups of 10 or more 100/person