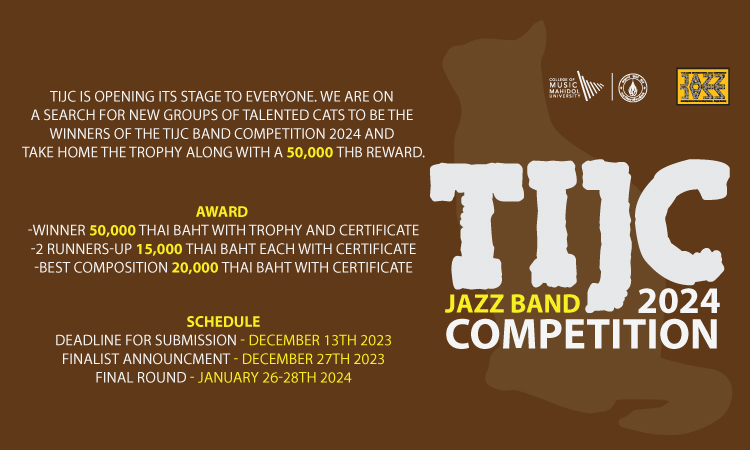 1. Schedule
Deadline for submission: December 13th 2023
Finalist Announcement: December 27th 2023
Final Round: January 26-28th 2024
2. REGISTRATION Fee
1,000 Thai baht
**no refunds in all cases
3. Awards
Winner: 50,000 Thai Baht with trophy and certificate
2 Runners-up: 15,000 Thai Baht each with certificate
Best composition: 20,000 Thai Baht with certificate
4. AUDITION / PERFORMANCE PROCEDURES: The competition consists of two rounds.
a. Pre-recorded Audition Round
Competitors must submit a live recording of the band's performance of one jazz. Recordings should be in one of these digital audio formats ( MP3, WMA, or Wave File are acceptable) with good sound quality. Video recordings are not accepted.
The recording must be submitted by fill in a link of an uploaded audio file (MP3, WMA, or Wave File) from YouTube, Google drive, or the similar resources into a Google form.
The piece submitted for the first round must be jazz, although there is no limitation regarding the styles (cool jazz, hard bop, fusion, etc.). The submitted work may be a well arranged piece of music or original composition. All works will be judged using blind audition. All judges will not be provided with any information.
Applicant must attest that the submitted sound recording is of the applicant's performance and that the songs have not been edited in any way.
Submission of a recording of any other player or an edited recording will result in immediate disqualification.
b. Final Round
In the final round, each Band is required to perform one song. The piece used for the final round must be an original composition from your band only and the composition must never have been used in any previous competition or commercially recorded before. The composition must be clear from copyright and all legal issues.
5. Rules
Available to all ages and nationalities
Type of musical instrument is unlimited. No more than an 8 piece instrument group. (Vocal will be count as 1 of the 8 if used.)
All finalists must be able to perform live for the given date and time
Each band will get 15 minutes which will start when entering the stage.
No pre-recorded sound sources of any kind allowed in both rounds.
No band members will be allowed to change for final round. All original members need to be the same as from the first round. In the case of an emergency, a change of member may be granted at the discretion of all judges.
The original composition for the final round can be in any style regarding jazz music. All finalists must submit the score to us one week in advance prior the final round for all the judges to decide the winner of best composition. The musical notation must include a very clear structure of the song such as, accidentals, rehearsal markings, etc…, and contain all information regarding the improvisation happening on the piece.
Both the composers and The College of Music, Mahidol University will have all the rights to record and publish the live performance. The College of Music, Mahidol University will NOT, however, retain any rights to use it commercially or for profit with the exception of promotional uses. 9. The judges will have the final decision on all matters.
6. REGISTRATION
Send a link of an uploaded audio file (MP3, WMA, or Wave File) from YouTube, Google drive, or the similar resources.
Send a copy of your ID card of the band's representative.
Proof of the money transfer.
Membership photo 4×6 inches with at least 300 dpi.
How to pay:
A non-refundable application fee (not include money transfer). Payment should be made by bank transfer to the following bank account:
Bank Name: Siam Commercial Bank Public Company Limited (SCB)
Bank Address: 99 M5 Phutthamonthon 4 Rd., Salaya, Phutthamonthon,
Nakhon Pathom 73170 THAILAND.
Tel: +66-2544-1000
Bank Branch: Mahidol University Branch
SWIFTCODE : SICOTHBK
Account Name: COLLEGE OF MUSIC
Account No: 333 -210-8221
**The Applicant must be responsible for any fees of money transferring (Outward Remittance).
How to upload your work:
https://forms.gle/YcdRmwLPNssV3ahT8