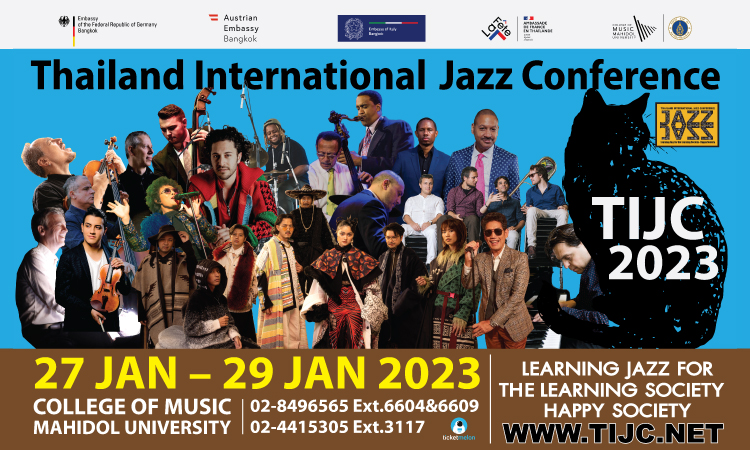 The moment of happiness for jazz lovers is coming back with the TIJC 2023, the most fantastic Thailand jazz event that includes many world-renowned artists such as Javon Jackson & Delfeayo Marsalis, Emmet Cohen Trio, Laurent de Wilde Trio, Sketchbook Quartet, etc. Don't miss out on Jazz with Thailand Phil Feat. Javon Jackson & Delfeayo Marsalis, Pomelo Town. And also highlight the works of Sonny Rollins, an American genius and legendary saxophone player to exhibit and glorify the virtuoso artists. Save the date to join us on 27 -29 Jan. 2023 at the College of Music, Mahidol University, Salaya.
Early Birds !!! 2,500 THB (All Events Pass for 3 Days) *
** Available until 12th January 2023
Book your ticket at Ticketmelon!
📆 Event date: 27th – 29th January 2023
📍 College of Music Mahidol University
📞 02-8496565 EXT.6604 & 6609 / 02-4415305 EXT.3117
Ticket prices start from 400 THB
#TIJC2023 #TIJC #Ticketmelon
#mahidolmusic #doortoyourstage
#jazzforall #เวทีไร้รอยต่อ #Globalcitizen
#เรียนรู้แจ๊สเพื่อสังคมแห่งความสุข