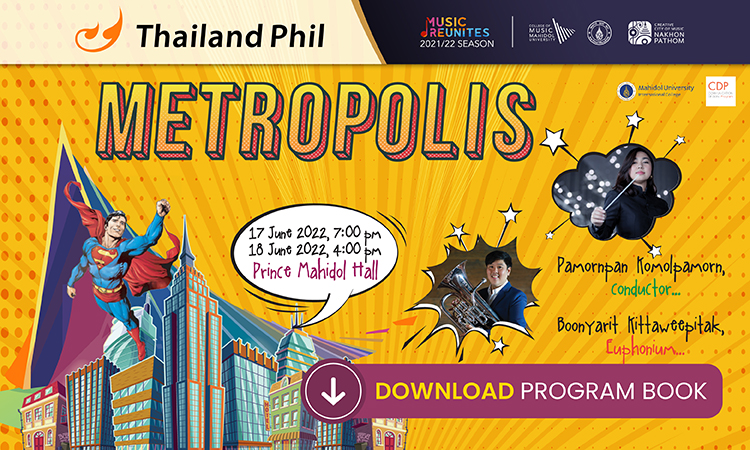 Metropolis Symphony is an epic work based on the original Superman comic books. Daugherty uses jazz, rock, funk, and a host of other sounds to bring the stories to life in a way that only a full symphony orchestra can. The music will be brought to life with animated graphics, digitally projected on all sides of the hall, creating a visually and aurally immersive experience. Also featured on this program is euphonium virtuoso Boonyarit Kittaweepitak. The program opens with a bang with Adam's breathless Short Ride on a Fast Machine. Our Resident Conductor, Pamornpan Komolpamorn, leads the orchestra in this fun and friendly program.
Thailand Phil is proud to partner with the faculty and students of the Communication Design Program at Mahidol University International College in the creation of the animated graphics.
Concert:
Friday, 17 June 2022 / 7:00 pm / Prince Mahidol Hall
Saturday, 18 June 2022 / 4:00 pm / Prince Mahidol Hall
Conductor: Pamornpan Komolpamorn
Soloist: Boonyarit Kittaweepitak, euphonium
​​Programs:
John ADAMS: Short Ride in a Fast Machine
Martin ELLERBY: Euphonium Concerto
Michael DAUGHERTY: Metropolis Symphony
Covid-19 Safety Guidelines:
Prince Mahidol Hall, in cooperation Phutthamonthon District, Nakhorn Pathom, has implemented a robust system of Covid-19 safety guidelines. Please click here read more about measures we are taking to keep your visit to Prince Mahidol Hall safe and healthy.
Ticket: 1,500/1,000/800/600/400 Baht
Booking by telephone
Thai Ticket Major call center: 02-2623456
Prince Mahidol Hall call 02-8496565 Ext 6609
Email: mshall@mahidol.ac.th
Salaya Link shuttle bus available at BTS Bang Wa Station: www.music.mahidol.ac.th/salayalink