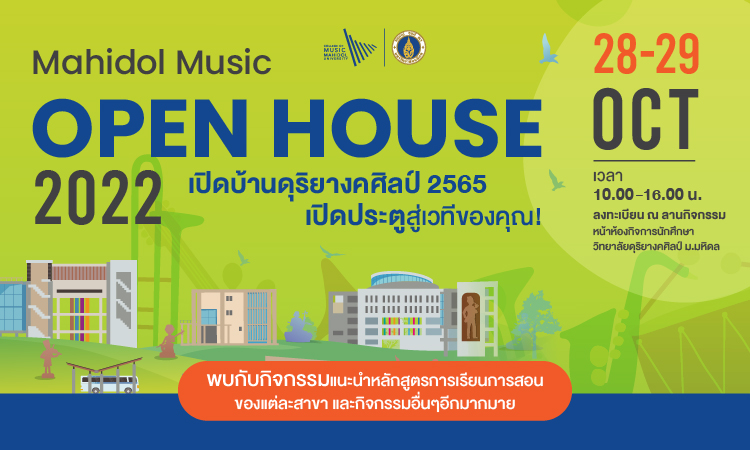 Mahidol Music Open House 2022 "Open the door on your stage"
Open House that will help you to explore and experience the College of Music, Mahidol University
28-29 October at 10.00-16.00 hrs.
at the College of Music, Mahidol University
Register at: www.mahidol.ac.th/openhouse
Join our activities introducing the program, curriculum, career opportunities, and how to prepare for admission and audition.
Join the Campus Tour, admission information, and chat exclusively with teachers and seniors from the departments you are interested in. A lot of music performances from our faculty, students, and alumni.
Students, parents, or those interested in music education. don't miss it! Free Admission
Program will be announced soon. Stay tuned.
Schedule for MS Open House 2022
– On Campus (Event 1, 2, 3, 4, 5, 6)
– Online (Event 1)
Fri. 28 October 2022
Sat. 29 October 2022
Event 1: Mainstage
Event 1: Mainstage
Venue: Court of Student affair, Building A
Venue: Court of Student affair, Building A
10.00 – 10.30 Intro from Program Chair
10.30 – 11.00 Performance 1
12.30 – 13.00 Career Center
13.00 – 13.30 Alumni Talk
13.30 – 14.00 Q and A
14.00 – 14.30 Performance 2
10.00 – 10.30 Intro from Program Chair
10.30 – 11.00 Career Center
12.30 – 13.00 Performance 3
13.00 – 13.30 Alumni Talk
13.30 – 14.00 Q and A
14.00 – 14.30 Performance 4
Event 2: Department Room 1 – Meet faculty
Event 2: Department Room 1 – Meet faculty
Venue: Building A, Room A407
Venue: Building A, Room A407
10:50 – 12:20 Woodwind
12:30 – 14:00 Piano
14.10 – 15.40 Brass and Percussion
10.10 – 11.10 Conducting
11.20 – 12.20 Composition
12.30 – 14.00 String
14.10 – 15.40 Voice and Musical Theatre
Event 3: Department Room 2 – Meet faculty
Event 3: Department Room 2 – Meet faculty
Venue: Building A, Room A113
Venue: Building A, Room A113
10.00 – 11.10 Music Education
11.20 – 12.20 Thai and Oriental music
12.30 – 14.00 Music Business
14:10 – 15:40 Jazz
10.10 – 11.10 Musicology
11.20 – 12.20 Music therapy
12.30 – 14.00 Classical Guitar

Event 4: Department Room 3 – Meet faculty
–
Venue: BLACK BOX THEATRE, 6th floor, South East Asia Music Museum
–
11.00 -12:30 Popular Music
14.10 – 15.40 Music Technology
Event 5: Campus Tour
Event 5: Campus Tour
10.00 -12.00 Round 1
14.00 -15.30 Round 2
10.00 – 12.00 Round 1
14.00 – 15.30 Round 2
Event 6: Department and Admission Booths
Event 6: Department and Admission Booths
10.00 – 15.00
10.00 – 15.00