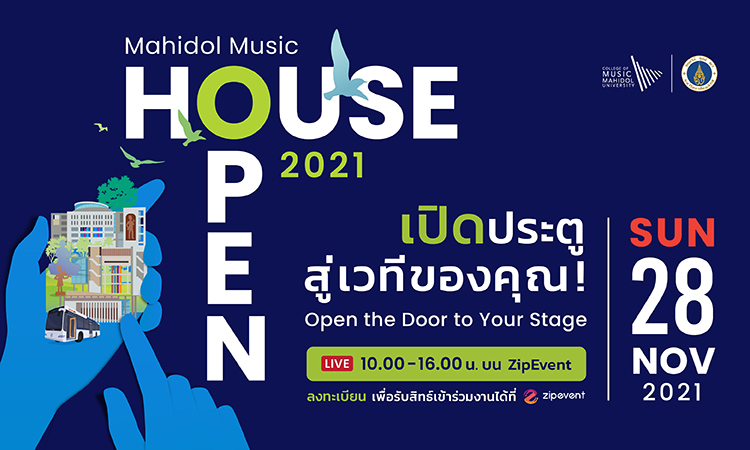 Virtual Open House that will help you to explore and experience the College of Music, Mahidol University.
Join our live activities introducing the program, curriculum, career opportunities, and preparation for admission and audition.
Join wherever you are! See the College tour online, visit the booths of each department, admission information, and chat exclusively with teachers and seniors from the departments you are interested in. Discover a lot of music performances from our faculty, students, and alumni.
Save the date and see you on Sunday, November 28th
LIVE from 10:00 a.m. to 4:00 p.m. on ZipEvent.
Students, parents, or those interested in music education. don't miss it! Free Admission
More details and register at:
www.zipeventapp.com/e/Mahidol-Music-Virtual-Open-House-2021
—
Main Stage Program – กิจกรรมบนเวที:
10.00 hr. – กิจกรรมแนะนำหลักสูตรเตรียมอุดมดนตรี – Young Artist Music Program (YAMP) Pre-College Overview
11.00 hr. – กิจกรรมแนะนำหลักสูตรระดับปริญญาตรี – Undergrad Program Overview
11.30 hr. – การแสดงดนตรี – Performance
11.40 hr. – กิจกรรมแนะนำหลักสูตรระดับปริญญาโท-เอก Graduate Program Overview
12.00 hr. – การแสดงดนตรี – Performance
12.15 hr. – S-Cool Zone รีวิวโรงเรียนเตรียมอุดมดนตรี YAMP ยืนหนึ่ง…มัธยมดนตรี โดย Papar Boat Channel
12.30 hr. – การแสดงดนตรี – Performance
12.45 hr. – International Admissions 国际招生
13.00 hr. – เยี่ยมชมวิทยาลัย – College Tour: If you are here!
13.15 hr. – การแสดงดนตรี – Performance
13.30 hr. – Forum – Career Paths in Music – เปิดประตูสู่เส้นทางอาชีพด้านดนตรี
14.00 hr. – การแสดงดนตรี – Performance
14.15 hr. – Forum: "Re-Think Music Education" Closing the gap between music education and industry – เชื่อมต่อการศึกษากับภาคอุตสาหกรรมดนตรี
15.00 hr. – การแสดงดนตรี – Performance