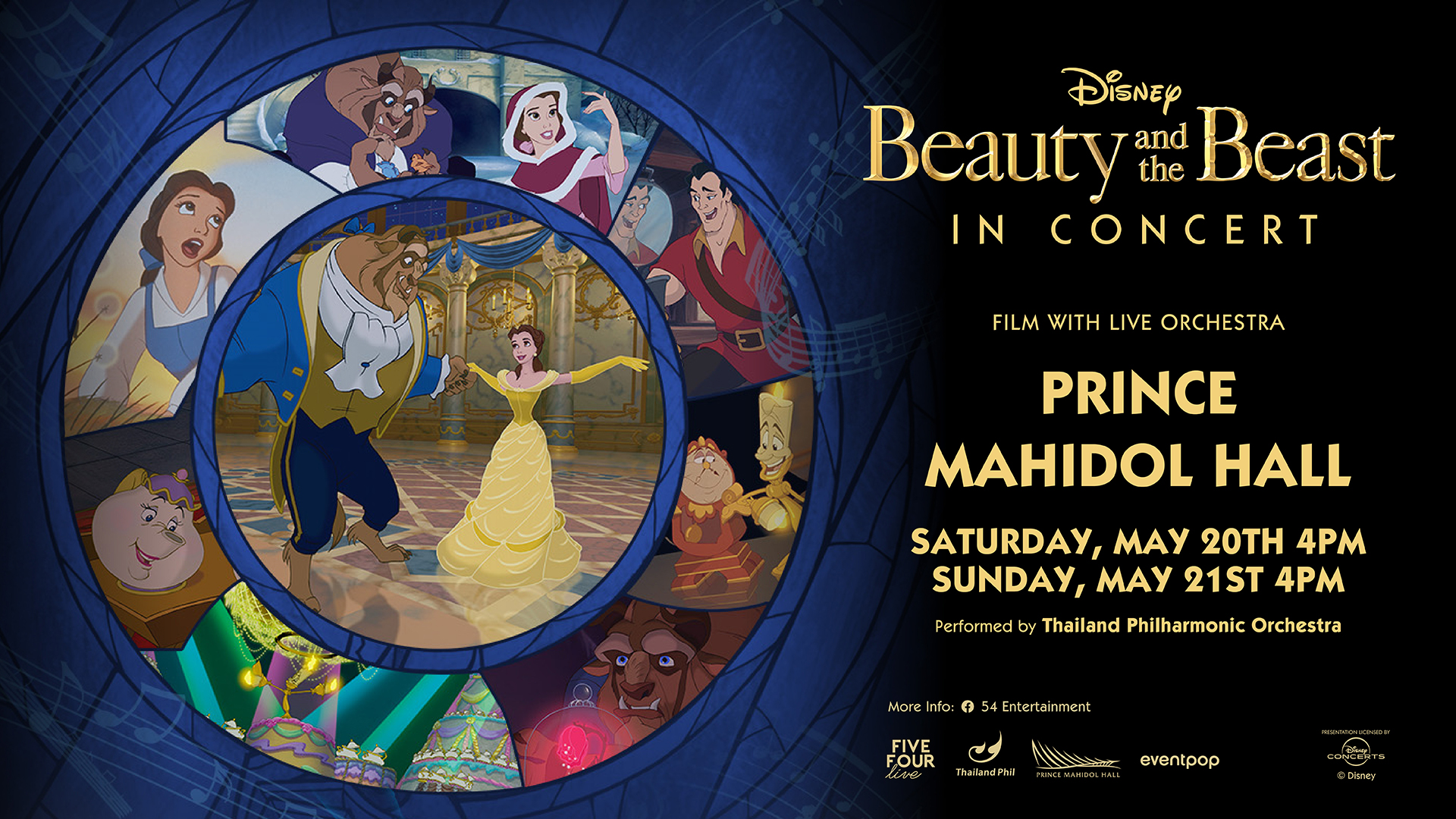 Saturday, 20 May, 2023 – 4:00 pm
Sunday, 21 May, 2023 – 4:00 pm
Prince Mahidol Hall
Thanapol Setabrahmana, conductor
Thailand Phil with Five Four Live present a screening of Disney's beloved animated classic, Beauty and the Beast with the Oscar®-winning score performed live to the film. Relive the timeless tale of Beauty and the Beast (1991) like never before, with a full-length featured film accompanied by a live orchestral performance. The movie will feature the original English voice track and Thai subtitles, providing a truly immersive experience.
Beauty and the Beast features an unforgettable score from eight-time Oscar®-winning composer Alan Menken, and original songs written by Menken and two-time Academy Award winner Howard Ashman.
Disney's classic Beauty and the Beast captures the magical journey of Belle (voice of Paige O'Hara), an independent and intelligent, modern-day heroine who's taken prisoner by a hideous beast (voice of Robby Benson) in his castle. Despite her precarious situation, Belle befriends the castle's enchanted staff—a teapot, a candelabra and a mantel clock, among others—and ultimately learns to see beneath the Beast's exterior to discover the heart and soul of a prince.
This program is proudly presented by Five Four Records
Ticket Prices
True Love's Kiss: THB 3,700 (Early Bird: THB 3,400)
Red Rose Seat: THB 3,200 (Early Bird: THB 2,950)
Enchantress Seat: THB 2,700 (Early Bird: THB 2,480)
Royal Seat: THB 2,200 (Early Bird: THB 2,050)
Tiara Seat: THB 1,800 (Early Bird: THB 1,680)
Teapot Seat: THB 1,300 (Early Bird: THB 1,200)
West Wing: THB 1,000 (Early Bird: THB 950)
Magic Mirror Seat: THB 1,300 (Early Bird: THB 1,200)
Music Lover Card, Student, and Senior discounts are not available for this program.
Salaya Link shuttle bus available at BTS Bang Wa Station: www.music.mahidol.ac.th/salayalink