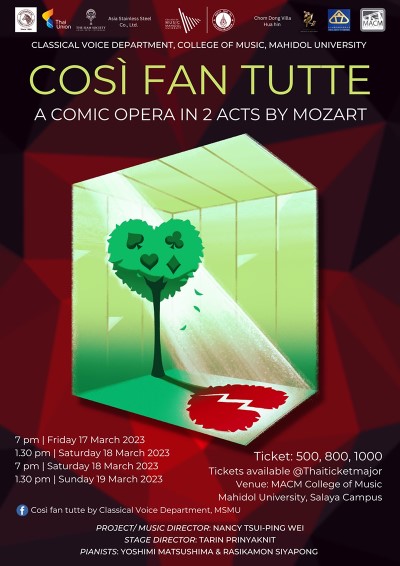 Wolfgang Amadeus Mozart's beloved comic opera to be fully staged in Thailand after a long decade by Classical Voice Department, College of Music, Mahidol University!
Originally set in Naples around 18th century, the opera will be transported to a stylised present-day Thailand in a country resort amidst verdant mountains.
The new production will be staged by Tarin Prinyaknit with Prof. Nancy Tsui-Ping Wei as Project and Music Director.
Così fan tutte (โคซิ ฟัน ตุตเต)
โอเปร่าชวนหัวยอดนิยมของโวล์ฟกัง อะมาเดอุส โมซาร์ท (Wolfgang Amadeus Mozart) กลับมาบนเวทีไทยในรอบทศวรรษกับโปรดักชั่นใหม่เอี่ยมโดยสาขา Voice and Musical Theatre มหิดล!
จากฉากหลังดั้งเดิมในเมืองตอนใต้ของอิตาลีราวศตววรษที่สิบแปด
สู่ฉากหลังไทยปัจจุบันชวนฝัน ในรีสอร์ตชนบทเขียมชอุ่มเคล้าวิวทิวเขา
โอเปร่าโปรดักชั่นใหม่กำกับการแสดงโดย ธาริน ปริญญาคณิต และกำกับดนตรีโดย อาจารย์ Nancy Tsui-Ping Wei
Ticket price: 500, 800, 1000  

ข้อมูลเพิ่มเติม/more information:
Project/Music Director: Nancy Tsui-Ping Wei
Stage Director: Tarin Prinyaknit
Pianists: Yoshimi Matsushima and Rasikamon Siyapong
Duration : 2.30 hours (with 20-minute intermission)
**The opera will be performed in Italian with Thai & English surtitles.**