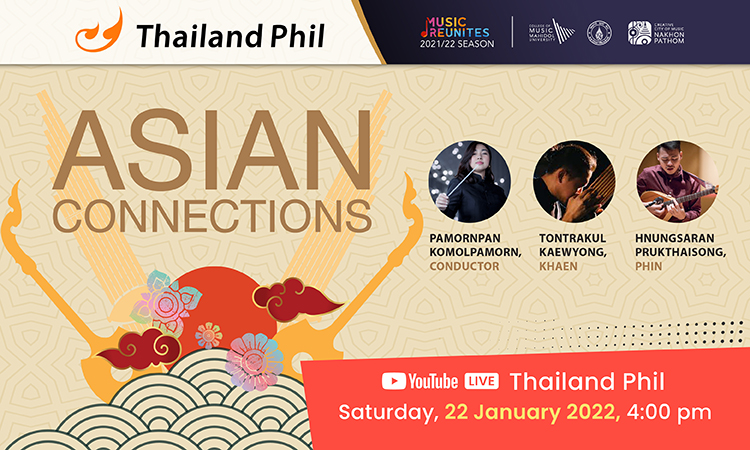 Asian Connections is a musical celebration of the international friendships and partnerships that are found throughout Asia. The centerpiece of this program is the world premiere of Narong Prangcharoen's new concerto for traditional Thai instruments, Sound, Echo, and Silence. Tontrakul Kaewyong and Hnungsaran Prukthaisong will dazzle on khene and phin, instruments never before heard as soloists with a symphony orchestra. Also featured will be works by noted Japanese composer Toru Takemitsu, and Chinese composers Xiaogang Yin, Chen Ti, and Pulitzer Prize winner Zhou Long.
Concerts: Saturday, 22 January 2022 / 4:00 pm / Live on YouTube*
www.youtube.com/c/ThailandPhilharmonic
*For the health and safety of our audience, our "Asian Connections" program will be a live-streamed-only event.
Conductor: Pamornpan Komolpamorn
Soloist:
Tontrakul Kaewyong, khene
Hnungsaran Prukthaisong, phin
Program:
ZHOU Long: The Rhyme of Taigu
Narong PRANGCHAROEN: Sound, Echo, and Silence: a Concerto for Phin, Khene, and Orchestra (world premiere)
CHEN Yi: Tu
Toru TAKEMITSU: Nami no Bon
XIAOGANG Ye: Cantonese Suite, Op. 51