Open House – 29 August 2020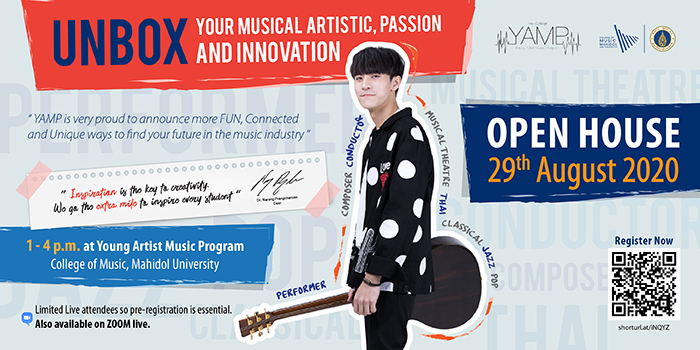 Come & Join Us for YAMP Open House on 29 August, 2020
Artist Development and Innovation
Open House for students up to aged 14 (Mattayom 3) who have a passion to develop their career and life as an artist.
12.00-13.00
Registration at 1st floor – Lunch available (Coupon system)
13.00
Intro about Music at YAMP:

What is it like to be a young musician at YAMP and how YAMP is helping or helped you to move onto UNBOX your passions and give you skills to develop a career

13.10
Music by Lingrom
13.15
Talk with current student and alumni about life as musician student at YAMP / What are you doing now? / How studying at YAMP helped you with your artistic development and innovation.
13.45
MS PLAY – a platform for students to collaborate together on "real-life" music events. Learn what it's really like to work across all careers in the music industry.
14.00
YAMP TOUR and introduction to BOARDING
Open Session (QandA)
15.10
Music by Mark Polawat
15.10-16.00
Q and A (Plenary)
YAMP offers a variety of merit, need-based and special instrument scholarship and financial aid for qualified student. Application are now open for talented young musician.
EVERY student who applies has an audition, EVERY student has an INTERVIEW….
EVERY YAMP student has an individual learning path leading to their chosen career.
Register Online
YAMP (Pre-College), College of Music, Mahidol University
25/25 Phutthamonthon Sai 4 Road, Salaya, Phutthamonthon Nakhonpathom, Thailand 73170
Tel. (66)2 800 2525 Ext 5303, 5248
Fax: (66)2 800 2530
E-mail: musicmupr@gmail.com