Admissions Process
Application processes are following: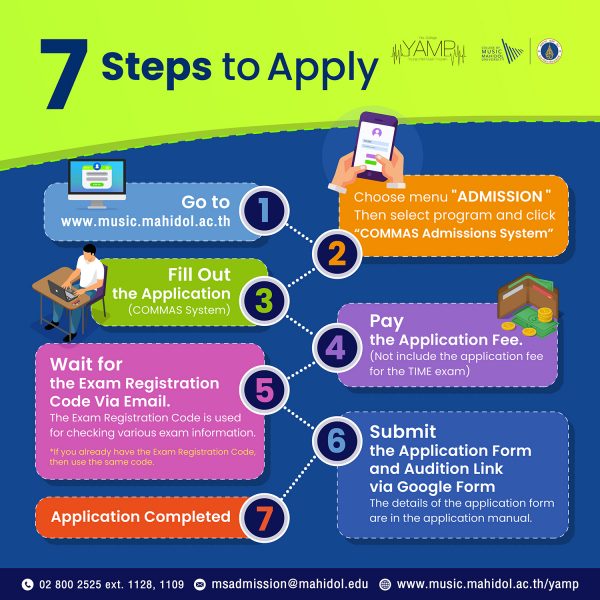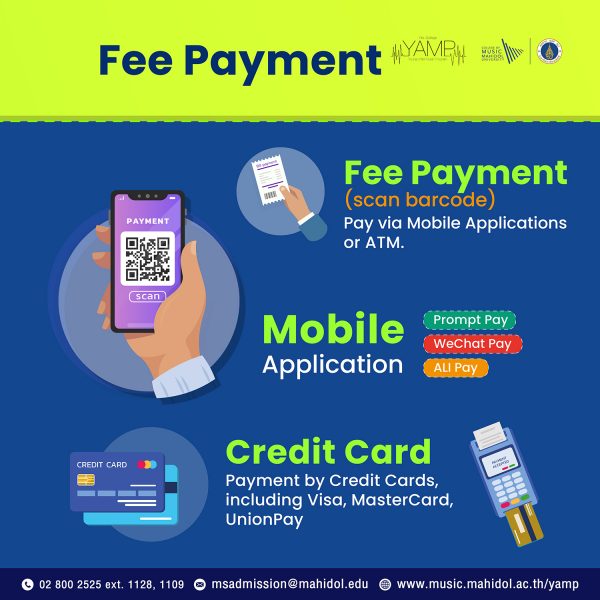 How to Apply
First time to apply, get started with these steps:
Go to www.music.mahidol.ac.th

Choose menu 

"Admission"

 Then select program and click 

"COMMAS Admissions System"

Fill Out the Application (COMMAS System)

Pay the Application Fee.




(Not including the application fee for the TIME exam)

Wait for the Exam Registration Code via email.




The Exam Registration Code is used for checking various exam information.




*If you already have the Exam Registration Code, then use the same code.

Submit the Application Form and Application Materials.

Application Completed
* Pre-College program and Bachelor program, application fee 1,500 baht
* Master programs and Doctoral programs, application fee 3,000 baht.
Additional Information
College of Music organizes four round of admission per academic year. For applicant who can not pass the admission, College of Music will keep the score (for the pass subjects) to use within the same academic year of application, and applicant will be able to use it for the next round (if needed)
In order to re-use the pass score, applicant must print the proof for the "pass" of the specific subject in previous round from the COMMAS system and send it together with the new application request.