The 13th Young Artist Music Annual Concert Series: 3 Nights of Terror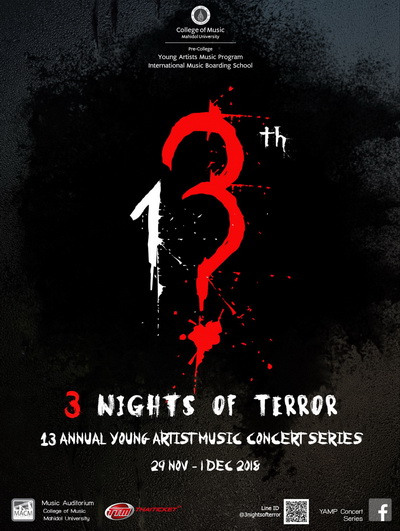 This will be the 13th Young Artist Music Annual Concert Series, College of Music, Mahidol University presented by the (Pre-College) Young Artist Musicians. This year's theme is "3 Nights of Terror"
The FIRST night of TERROR tells the story of a group of teenage boys who challenge each other to go inside the cemetery to see if the myths are true. It's mysterious, desolated, silent, and looks horrific. How is their long night going to be? Will they make it out safe and sound?
29 November, 7 pm – "Ghost Hunt" featuring Thai Ensembles, Young Artist Symphonic Band and Voice
The SECOND night of TERROR: Do you remember what it felt like to sleep on your own for the first time? Did you choose to sleep on your own? What if you didn't have a choice but to sleep on your own like this little girl?  What is it going to be like to sleep alone on this night of Halloween?
30 November, 7pm – "Nightmare" featuring Piano ensemble, Guitar Orchestra and Voice.
The THIRD night of TERROR: Boundless love…does it really exist? Two people from diverse ethnicities, from different times, different souls, and distinct cultures – only one thing ties the two together, their hearts. But is it enough to keep a vampire and a human in love forever?
1st December, 7pm – "Unconditional Love" featuring Young Artist Symphony Orchestra, Jazz and Voice
Venue:  MACM, College of Music, Mahidol University
Ticket Price: 500, 800, 1000, 1500 Baht
Ticket is now available at Thaiticket Major, www.thaiticketmajor.com
Ticket Promotion:
Early Bird from 21 August  – 30 September
30 % General Public
50 % MS Student
———————————————-
1 October – 31 October
Buy 3 Get 1 Free (All prices 1 Free is the lowest price)
30 % Student
———————————————-
1 November – Concert Day
Full price
For more information:
Fb page: https://www.facebook.com/YAMPannualconcert/
Young Artist Music Annual Concert Series : 3 Nights Of Terror
Line@: @3nightsofterror