INTERNATIONAL APPLICANTS
TIWSC 2020
The Thailand International Wind Symphony Competition 2020 is open to wind bands and small wind ensembles from any country. The competition's previous iteration (TIWEC) has previously had contestants from several different countries in Southeast Asia, with international ensembles winning the Class A 1st prize twice. The information in this section was prepared for international ensembles considering entering the competition.
Travel
Contestants will need to make their own travel arrangements. Thailand's main international airport is Suvarnabhumi International Airport, which is situated on the east side of Bangkok. The other international airport in Bangkok is Don Meung International airport, which is located in the north of Bangkok and serves low-cost airlines. Both of these international airports are fully modernized.

For local transportation there are many options available for large and small ensembles. For wind bands, it is recommended to use a tour bus company for transportation throughout the competition. Taxis in and around Bangkok are both plentiful and very reasonably priced. 
Housing
Contestants in the competition will need to find their own hotels. There are very limited hotel options in Salaya (home of the College of Music) that could host a wind band. The College of Music is currently making arrangements with several hotels that are relatively close to the College of Music. This information will be provided on this webpage soon. 

Money
Thailand uses the Thai Baht. Although many businesses (hotels, stores, etc.) accept credit cards, the vast majority of local shops don't accept credit cards. When traveling in Thailand it is suggested to carry some Thai Baht. Thai Baht can be exchanged at the Suvarnabhumi International Airport, or can be withdrawn from ATM machines which can be found nearly everywhere.
Electricity
Thailand uses 220V AC electricity. The most common type of power outlet will accept both flat prongs (with 2 flat prongs or 2 flat prongs with ground), or round prongs. The following photo shows this common type, which is found in most places.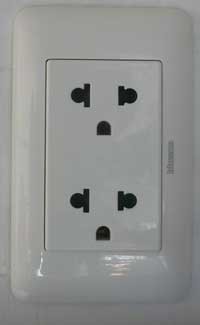 It is possible to find older power outlets which have only round prongs, but they are usually only found in very old hotels.

Weather
Weather in Thailand is best described as tropical and humid throughout most of the year. Bangkok has 3 seasons. From November-February is the cool season, where the temperature is cooler and it rains infrequently. From March to May is the hot season, where the temperature is very warm and there is no rain to cool things off. The months of June-October is the rainy season, where frequent rain showers cool down the temperature. The competition occurs during the tail end of the cool season, which is an ideal time to travel to Thailand.
Food
Thailand is home to one of the most popular cuisines in the world. Thai food has very popular dishes, such as Pad Thai and Tom Yum Gung, and is characterized by aromatic flavors and a spicy edge. Eating in Thailand is generally considered safe, especially at major restaurants. One of the charms of visiting Thailand is street food. Care should be taken when eating street food for those with weak stomachs. 
Welcome to Thailand
Bangkok is one of Asia's most cosmopolitan cities and has attractions to stimulate the tastes of even the most sophisticated travelers. Created as the Thai capital in 1782 by the first monarch of the present Chakri dynasty, Bangkok is a national treasure and is Thailand's spiritual, cultural, political, commercial, educational and diplomatic center. To the Thais, Bangkok is known as Krung Thep, "City of Angels," a magical place that captivates the imagination. Joyfully exuberant, Bangkok embraces modern development and presents an initial picture of imposing office towers, world-class hotels, and glittering shopping plazas packed with treasures of the East such as silks and gemstones.  Thailand's restaurants are acclaimed for their succulent spicy recipes; however, other national cuisines are readily available.
Amidst today's hectic world Bangkok manages to preserve its cultural heritage to an amazing degree. In the rich splendor of the Grand Palace, the Temple of the Emerald Buddha, the Temple of the Dawn and other historic shrines, one sees images of medieval Oriental wonder, the very essence of Eastern fairytales. The influence of the past, not limited to major monuments, continues to color daily life.  Files of monks in saffron-colored robes making their early morning alms round present a scene essentially unaltered by the passing of time. Today's backdrop of high-rise buildings only adds wonder to this and other enduring sights from which the city continues to draw definition.
Thai people are fun-loving and easy-going, and it is from them that the country of Thailand derives its unique identity. They possess a rare tolerance, which imbues the country with a sense of freedom and security. The essential feeling one derives in Thailand is a good-natured acceptance of life. Thailand's City of Angels is a magical place where possibilities are limited only by one's imagination. 
Tourism is a major part of the Thai economy and the sightseeing opportunities are endless. In Bangkok alone, one could spend weeks exploring its many attractions. If time allows before or after the competition, there are many short trips that are highly recommended. A collection of resources concerning Thailand can be found in the Lonely Planet Guide.  On-line version: www.lonelyplanet.com/ and at www.tourismthailand.org/.
Accomodation Near By
Salaya Pavilion Hotel (Mahidol University Training Hotel, Salaya, Nakhon Pathom)
Located on the campus of Mahidol University.
Telephone: + (66) 2441 – 0568M
Fax: + (66) 2441-0554
Email: rsvn@salayapavilion.com
Website: www.salayapavilion.com

ASEAN House
Located on the campus of Mahidol University.
Telephone: + (66) 2889 - 3892 # 4000, 4001
Website: www.aihd.mahidol.ac.th

Bandit Parlor Salaya
Telephone: + (66) 2444-6655, 087-544-3333
Email: bunditparlor@gmail.com
Website: bunditparlor.hong-pak.com
Facebook: www.facebook.com/bundit.parlor.salaya

The Royal Gems Golf Resort and Sports Club
98 Moo3 Salaya-Bangpasi Rd., A.Phuthamonthon, Nakhonpathom, 73170 Thailand
Email: rsvn_golf@royalgemsgolf.com
Telephone: + (66) 2 429-8066
Fax: + (66) 2 429-8070
Website: http://www.royalgemsgolf.com

The September Salaya
59 Moo 4 Salaya Phutthamonthon Nakhon Pathom 73170
Telephone: + (66) 2-889-3848, (0)81-911-5866
Email: theseptembersalaya@hotmail.com
Website: www.theseptembersalaya.com
Facebook: http://www.facebook.com/TheSeptemberSalaya

Bunditapartmentgroup
Telephone: + (66) 2 444-6699
Fax: + (66) 2 444-66490
Website: www.bunditapartmentgroup.com