Adjudicators
Semi Final & Final Round
Cary Stewart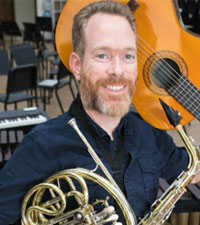 Cary Stewart is a conductor, composer, educator and percussionist whose interests span art music, jazz, rock and world music. He has performed and recorded in dozens of countries on four continents. In addition to art-music ensembles including wind ensemble, symphony orchestra, jazz big band, drum and bugle corps, and musical theater, Cary brings experience in popular and worldwide folkloric ensembles such as the salsa conjunto, second-line brass band, steel pan orchestra, and a wide variety of pop and rock configurations. Cary's mission is to cultivate a professional depth of knowledge in as wide breadth of musical areas as possible.

He has performed and recorded with many world-renown composers, conductors, and recording artists such Turtle Island String Quartet, Randy Brecker, Christian McBride, Jerry Goldsmith, Robert W. Smith, Daron Hagen, Phil Woods, Ernie Watts, Lenny Pickett, Tom Scott, and others.

As a conductor, Cary seeks to utilize efficient, pragmatic gestures which encourage multi-directional communication among players and leader. When leading groups of musicians, Cary seeks to build communities of trust in which every member feels empowered to contribute, to take artistic risks, and to push the ensemble's goals confidently into previously uncharted territory. His principal conducting teachers are Michael Haithcock and Mallory Thompson.

As a composer and as a producer of recordings and live shows, Cary's classical training informs his organic, contoured, and multilayered interpretations of jazz, salsa, metal, tango, and other genres. His signature sound involves meaningfully sculpted transitions and rich emotional peaks within an overarching aesthetic of empathy for the human experience.

---
Dr. Daniel Pittman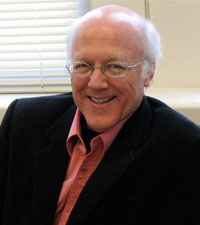 Dr. Daniel Pittman's career has reached across four decades of service to various universities in the United States. His concluding affiliation was twenty-three years at Georgia Southern University in Statesboro, Georgia where he was a fully tenured Professor of Music, Director of Bands, and Interim Director of the University's Center for International Studies.

With a pledge to internationalism, he led the University's innovative Studies Abroad Program in Music, combining European concert tours by the performing ensembles with academic music instruction offered in overseas locations in its European Academic Residency. His commitment to international arts led to his founding Counterpoint LLC, a U.S. based company that designs, develops, and produces international concert tours for ensembles.

Additional to engagements throughout the U.S., Dr. Pittman has conducted ensembles and notable performances in England, Germany, Austria, Italy, the Czech Republic, Australia, and Thailand. Dr. Pittman is a two-time recipient of a Fulbright Senior Specialist Grant for academic service to Payap University, Chiang Mai, Thailand.

Daniel Pittman now resides in Chiang Mai where he continues to offer consultation and support for the growth and expansion of musical arts in the city and province.

---
Jonathan Mann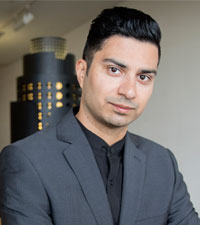 Jonathan Mann Hailed by Bernard Haitink for the "infectious joy in his conducting and music making", Jonathan Mann is in demand as both performer and music educator. Based in Bangkok, Thailand, Jonathan travels for projects throughout Asia and Europe. He is currently Music Director of UK Ensemble Cambrica and Artistic Director of the Immanuel Orchestra - Music for Life Foundation in Thailand. Jonathan Mann has conducted extensively internationally and his performances have been broadcast on television and radio. At the Jeunesses Musicales International Conducting Competition 2015 in Bucharest, he received the George Enescu Philharmonic Orchestra prize and a special jury prize leading to his Polish debut with the Kielce Philharmonic Orchestra. In September 2019 he was selected as one of 20 finalists from 300 live auditionees to participate in the prestigious Besancon International Conducting Competition in France. As founder and Music Director of the Cardiff Sinfonietta Jonathan oversaw the orchestra's expansion over a 15 year period. The orchestra broadcast for the BBC and S4C and worked with soloists including Nicola Benedetti, Dame Evelyn Glennie, Benjamin Grosvenor, Sunwook Kim and Dennis O'Neill. At the start of 2020 the Cardiff Sinfonietta merged with the Welsh Sinfonia to form Ensemble Cambrica, an exciting new orchestra aimed at reaching the community in new ways. Their first project was a series of virtual orchestra performances raising money for health workers and freelance musicians in need during the COVID-19 crisis. Passionate about inspiring young musicians, Jonathan Mann has conducted numerous youth orchestra festivals around the world. Since 2015 he has been Artistic Director of the Immanuel Orchestra in Bangkok which is loosely modeled on the renowned Venezuelan music program 'El Sistema'. During this time he has raised the standard of the orchestra performing symphonies by Beethoven, Haydn, Mozart and Schubert. He also helps to mentor students and encourage them into higher education. Jonathan is also a popular teacher of conducting as guest clinician for universities and conferences and teaches individual classes at his home in Bangkok and virtually. He is Artistic Director of the Cardiff International Academy of Conducting providing intensive live and virtual courses for emerging conductors and with the founding of the Thai Conductors Forum he has started to mentor a new generation of young Thai conductors. Jonathan Mann studied in London at the Royal Academy of Music and Guildhall School of Music and Drama. He was also Sir Charles Mackerras Junior Fellow in Conducting at Trinity Laban Conservatoire of Music and Dance from 2017-19. His conducting mentors are Colin Metters, George Hurst, Jac Van Steen and Bernard Haitink whom he worked with at the Lucerne Festival..
---
Dr. Narong Prangcharoen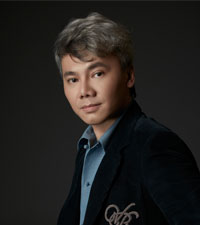 Thai Composer Dr. Narong Prangcharoen's success as a composer was confirmed by his receiving the prestigious Charles Ives Award 2021 from the American Academy of Arts and Letter, the 2013 Guggenheim Fellowship and the Barlow Prize. Other awards include the Music Alive, the 20th Annual American Composers Orchestra Underwood New Music Commission, the American Composers Orchestra Audience Choice Award, the Toru Takemitsu Composition Award, the Alexander Zemlinsky International Composition Competition Prize, the 18th ACL Yoshiro IRINO Memorial Composition Award, the Pacific Symphony's American Composers Competition Prize, and the Annapolis Charter 300 International Composers Competition Prize. In his native country, Mr. Prangcharoen was recipient of the Silapathorn Award, naming him a "Thailand Contemporary National Artist".

Prangcharoen has, thus, established an international reputation and is recognized as one of Asia's leading composers. He has received encouragement and praise from a number of important contemporary composers, such as Paul Chihara, Zhou Long, Augusta Read Thomas, and Yehudi Wyner. John Corigliano has called Prangcharoen's music "contemporary and accessible," and Chen Yi has written that it is "colorful and powerful."

The press has also recognized Sun Times called his tober 2012 Carnegie debut by the American Composers Orchestra of "Migrations of Lost Souls", New York Times critic, Corinna da Fonseca-Wollheim wrote, it is "an atmospheric work that weaves some of the spiritual and vernacular sounds of Mr. Prangcharoen's native Thailand into a skillfully orchestrated tapestry [with] moments of ethereal beauty."

Prangcharoen's music has been performed in Asia, America, Australia, and Europe by many renowned ensembles such as the American Composers Orchestra, the Annapolis Symphony Orchestra, the Baltimore Symphony Orchestra, the Bohuslav Martinů Philharmonic, the China Philharmonic Orchestra, the China NCPA Orchestra, the German National Theater Orchestra, the Grant Park Orchestra, the Melbourne Symphony Orchestra, the Minnesota Orchestra, the Nagoya Philharmonic Orchestra, the Oregon Symphony Orchestra, the Pacific Symphony, the Shanghai Philharmonic Orchestra, the Thailand Philharmonic Orchestra, the Tokyo Philharmonic Orchestra, and the Toledo Symphony Orchestra, under many well-known conductors, such Carl St. Clair, Steven D. Davis, Carlos Kalmer, Jose-Luis Novo, Mikhail Pletnev, and Osmo Vänskä. His music has also been presented at many important music festivals and venues, such as the Grant Park Music Festival, the Asia: the 21st Century Orchestra Project, the MoMA Music Festival, the Maverick Concerts: "Music in the Wood", the Beijing Modern Music Festival, the Lincoln Center, the Library of Congress, the Le Poisson Rouge, and the Carnegie Hall by distinguished performers such as, among others, The New York New Music Ensemble, the Imani Winds, saxophonist John Sampen, and pianist Bennett Lerner

Prangcharoen received his DMA from University of Missouri-Kansas City, where his primary teacher was Chen Yi. Being a freelance composer, composition teacher at Community Music and Dance Academy at University of Missouri-Kansas City, and a composer in residence of the Pacific Symphony while he had staying in USA for many years , Dr. Narong Prangcharoen is now a Dean of a College of Music, Mahidol University, Thailand. He is also a composer-in-Residence of the Thailand Philharmonic Orchestra, Thailand, an Artistic Director of Thailand International Composition Festival, an Artistic Committee of Beijing Modern Music Festival, an Artistic Advisor of Asia/America New Music Institute, and a Vice President of China-ASEAN Musicians Union. His works are published exclusively by Theodore Presser Company.
---
Paul Archibald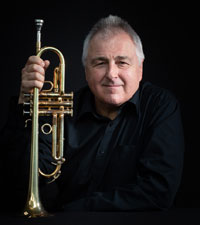 As a professional musician, Paul has enjoyed long established relationships with UK orchestras Brandenburg Sinfonia, Britten Sinfonia, London Mozart Players and Orchestra of St John's. As an educator, he has developed a range of specialist courses for young musicians as part of his work with his organisations English Music Academy and English Brass Academy.

Paul was Music Director of Regent Brass, one of the UK's finest brass bands and, in collaboration with the London Mozart Players, has recently commissioned a new work by composer Rebecca Dale and poet Selina Nwulu entitled STAND, an ambitious work aimed at crossing cultural boundaries. The recording and music video includes a host of choirs from around the world alongside guest solo artists. The release of STAND in 2021 will also act as the launch for the work of a new charity - Harmony: Action Through the Arts - bringing benefit to young people who are socially and economically disadvantaged through activity in a range of musical projects.

Paul has been a principal player in the Orchestra of the Royal Opera House, Covent Garden, London Sinfonietta and BBC National Orchestra of Wales and was a member of the Philip Jones Brass Ensemble and English Brass Ensemble. He has recorded with many popular artists including Barbara Streisand, Shirley Bassey, Sir Paul McCartney and Oasis and film work includes Batman, Gladiator, Lord of the Rings and Harry Potter and Shrek.

Paul has been a professor at the Royal Academy of Music, Royal College of Music and was Head of Wind, Brass and Percussion at the Guildhall School of Music and Drama. He is now living in Thailand and is Head of Woodwind and Brass at Shrewsbury International School, Bangkok. In 2003 he was elected as a Fellow of the Royal Academy of Music, London, limited to 300 former Academy students.
---
Thomas Myers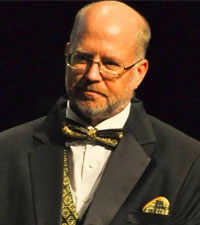 Thomas Myers is in his 40th year of teaching instrumental music. He has a BMA in music performance from Providence University in Great Falls, Montana, USA, specializing in Trombone and Vocal Music. After teaching for 5 years in Brady, Mt., he returned to earn a Master of Music Education degree as a graduate assistant at the University of Montana, in Missoula, Mt. under Dr. Thomas Cook, receiving an Outstanding Service Award. While teaching in Shelby, Mt. he received the 'Teacher of the Year' award, and the music program at Shelby was recognized as 1 of the top 100 music schools in the United States by the National Association of Music Educators. His musical groups have consistently earned superior ratings over the course of his career, and many students have been selected to participate in top honor band and jazz band festivals. He has served a 4-year term as the treasurer for the Montana Music Educators Association and been a member of the Montana Bandmasters Association and the National Association for Music Education. During his tenure in Montana, he has organized and hosted numerous band festivals as well as performing with the Great Falls Symphony, Harold Nicholls Big Band, and the University of Montana Jazz Band and Wind Ensemble. In 2002, he moved to International School Bangkok in Thailand, where he is currently teaching IB Music, Guitar, and Jazz Band. Over the last two decades, he has continued his life-long learning studying various programs and courses through Berklee School of Music, including a master's certificate in guitar and a specialist certificate in piano.