Date
Date(s) - 28/01/2020

Location
อาคารเตรียมอุดมดนตรี
Workshop: East Meets West – World Music and Global Soundscapes
Date: Tuesday Jan 28, 2020, 9.00 – 12.00
Venue: PC607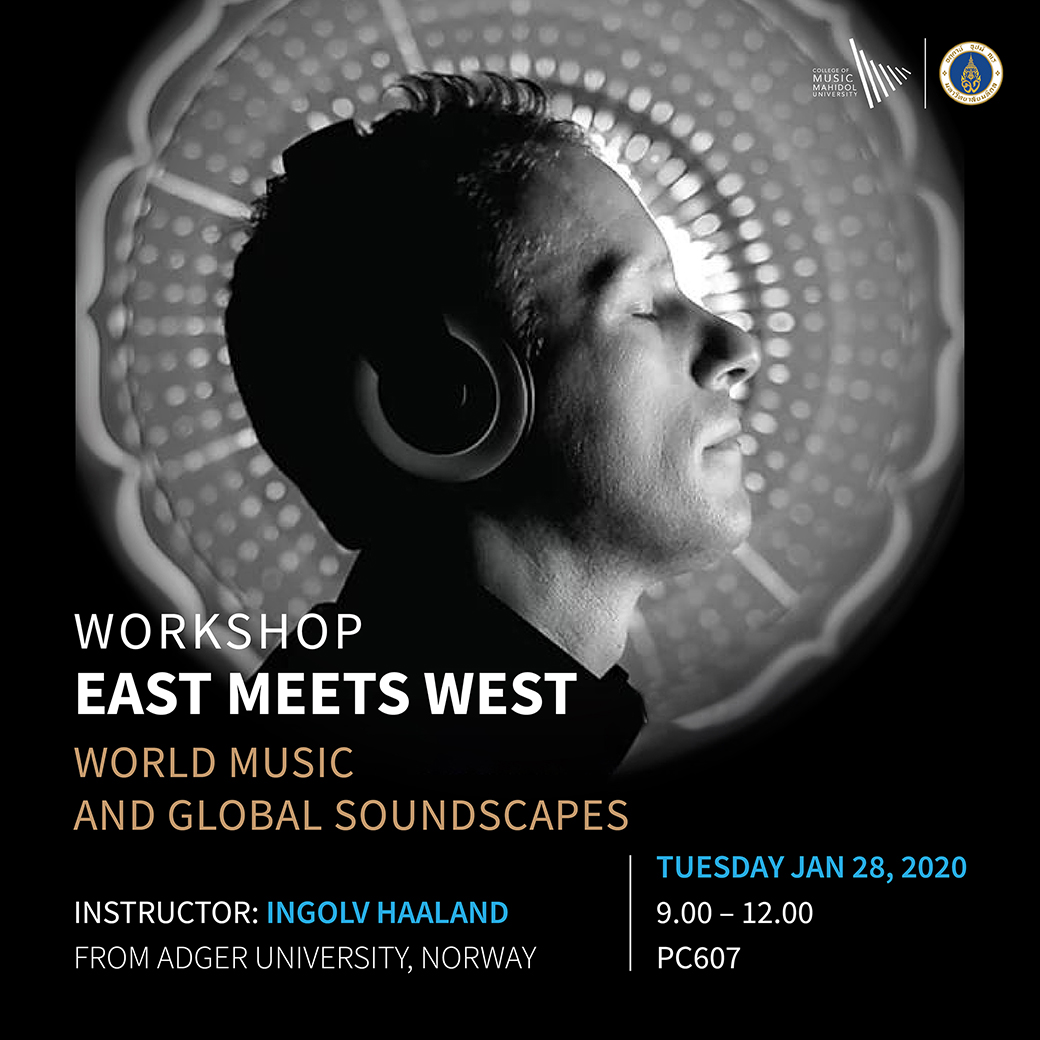 Instructor: Ingolv Haaland from Adger University, Norway
Description: In this workshop we will work on two of his compositions "Silk Road" and "Crossroad" as a case study.  The composition has open parts for improvisation as well as more structured parts.  The workshop will also discuss the topic of the creation of the composition, the process of interpretation and practicing the pieces, and the stylistic issues regarding mixture between the western and eastern music.  Sheet music is provided.
The pieces discussed in the class will be performed by the following ensembles.
A jazz quartet: Piano/guitar/bass/drums
A classical string quartet: violin1/violin2/viola/cello
Thai traditional instruments: Khim/ranat ek/Khong/Chake
การบรรยายเชิงปฏิบัติการเรื่อง East Meets West – World Music and Global Soundscapes โดย Assoc Prof Ingolv Haaland จะอธิบายในเรื่องที่เกี่ยวข้งอกับการสร้างผลงานประพันธ์ กระบวนการในการตีความและฝึกบทเพลง และแนวคิดในเรื่องแนวเพลง ที่เกี่ยวข้องกับการผสมผสานดนตรีตะวันตกเข้ากับดนตรีตะวันออก โดยใช้บทเพลงที่วิทยากรได้ประพันธ์ขึ้น 2 บทเพลง ได้แก่ "Silk Road" และ "Crossroad" เป็นกรณีศึกษา ซึ่งบทเพลงดังกล่าว เขียนขึ้นสำหรับวงดนตรีที่ประกอบด้วย Jazz Quartet (เปียโน เบส กลอง กีต้าร์) String Quartet (ไวโอลิน 1 ไวโอลิน 2 วิโอลา เชลโล) และเครื่องดนตรีไทย (ขิม ระนาดเอก ฆ้องวง จะเข้)
About the Instructor: Norwegian composer, pianist and associate professor Ingolv Haaland composes music combining pop, jazz, classical and traditional instruments into something new.  Haaland has published 6 albums and worked in the Middle East and Southeast Asia since 2006.