Date
Date(s) - 11/03/2020 - 15/03/2020

Location
Music Auditorium, College of Music, Mahidol University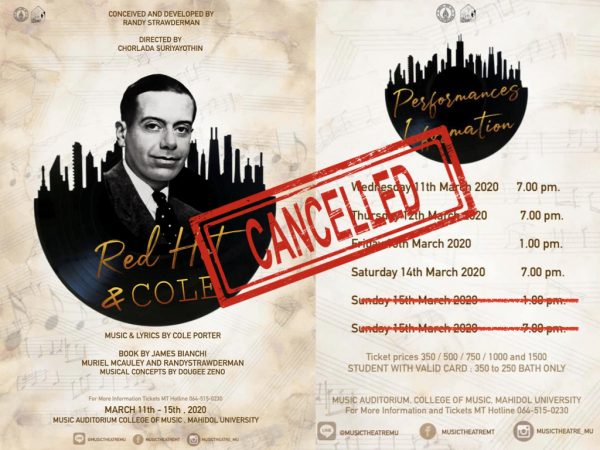 เนื่องจากความเสี่ยงที่เพิ่มขึ้นจากสถานการณ์ COVID-19 วิทยาลัยดุริยางคศิลป์ มหาวิทยาลัยมหิดล จึงขอประกาศยกเลิกการแสดงทั้งสองรอบที่เหลือ ของ Red Hot & Cole ที่จะจัดขึ้นในวันอาทิตย์ที่ 15 มีนาคมนี้ ที่หอแสดงดนตรีวิทยาลัยดุริยางคศิลป์ ขอแสดงความยินดีกับสาขาละครเพลงของเรา และขอบคุณทุกท่านที่มาชมและให้การสนับสนุน
การขอรับคืนเงิน:
1. หากคุณซื้อบัตรผ่านทาง Thaiticketmelon คุณสามารถขอรับเงินคืนได้โดยตรงผ่าน Ticketmelon หรือติดต่อ 02 026 3068
2. หากคุณซื้อบัตรโดยตรงที่วิทยาลัยฯ กรุณาติดต่อ โทร. 092-8795593 หรือ 086-7705715
ทางทีมงานของเราจะพยายามติดต่อทุกท่านที่จองตั๋วสำหรับรอบการแสดงวันพรุ่งนี้ 15 มีนาคม รอบ 13.00 น. และ 19.00 น. เพื่อแจ้งให้ทราบ
---
Voice Performance (Music Theatre) Department at College of Music, Mahidol University is proud to present our annual musical production of 2020: Red Hot and Cole.
The book for Red Hot and Cole was written by James Bianchi, Muriel McAuley, and Randy Strawderman. Music and lyrics were written by the American composer, Cole Porter. Porter's other musicals include: Fifty Million Frenchmen, Dubarry Was a Lady, Anything Goes, Can-Can, and Silk Stockings. His numerous hit songs include: "Night and Day", "I Get a Kick Out of You", "My Heart Belongs to Daddy", and "You're the Top". Musical concepts and arrangements were developed by Dougee Zeno. The show was conceived by Randy Strawderman, and was originally produced by Barksdale Theatre in Hanover, Virginia.
Red Hot & Cole
A musical about the great American songwriter, Cole Porter, who brought colors to the stages of Broadway and Hollywood with his genius, fresh, sexy, and unexpected melodies.
This show will reveal Cole's career from the start in Indiana to the world stages of New York, London, Paris, and Venice, as well as his love life and marriage, and his friendships. The audience will witness the whole spectrum of his life: from the peak of his career to the accident that brought him to the abyss of despair.
The musical also presents many of his well-known songs, including, "Night And Day", "I Love Paris", "Anything Goes", "Let's Do It", "Miss Otis Regrets", "Just One of Those Things", "In The Still of the Night", and "My Heart Belongs to Daddy". Red Hot & Cole is truly a dream come true for the audience and musicians. You will fall in love not only with the beautiful melodies, but also with the memorable story of his life.
This musical will be directed by Ms. Chorlada Suriyayothin. Chorlada graduated from Silpakorn University with her bachelor's degree in Music Performance (classical voice) with the second class honor, and continued to pursue her master's degree in Music Performance at University of Chichester in U.K. She also received the certificate in musical theatre acting from The London Drama School (Star Tek Associates). Since 2017, she has been working as a Lecturer at College of Music, Mahidol University in Voice Performance Department (Musical Theatre), where she teaches applied voice lessons.
Chorlada is a member of a theatre group called "New Theatre Society". As an actor, she has performed in many shows, and also directed Freeze the Dream in Bangkok Theatre Festival (2009), Marry me will you? in Broken Heart Festival (2011), and Summer Dream (2011). Furthermore, she has been working on many musical theatre productions in Thailand and is involved in numerous projects in this area.
Performance Information:
-Wednesday, March 11th, 2020 7:00 p.m.
-Thursday, March 12th, 2020 7:00 p.m.
-Friday, March 13th, 2020 1:00 p.m.
-Saturday, March 14th, 2020 7:00 p.m.
-Sunday, March 15th, 2020 1:00 p.m.
-Sunday, March 15th, 2020 7:00 p.m.
Performances will be at MACM, College of Music, Mahidol University.
(All the shows will be performed in English with Thai subtitles and a live big band.)
For reservations:
MT hotline: 064-5150230, 029849-6565 Ext. 6604, 6609
Facebook: www.facebook.com/musictheatremt
Email: musictheatremt@gmail.com
or Line ID: @musictheatremu