Date
Date(s) - 13/03/2020 - 14/03/2020

Location
Prince Mahidol Hall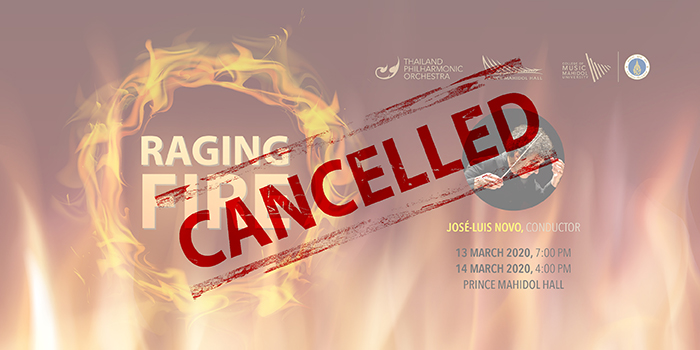 Due to the current situation with the Coronavirus (COVID-19) the Thailand Philharmonic Orchestra will cancel its remaining concerts in March. RAGING FIRE and NATIONAL TREASURES which were to have taken place on 13-14 and 20-21 March 2020 will be CANCELLED.
This difficult decision was made in the interests of prioritizing and protecting the health of our audience, musicians, and venue staff. The Thailand Philharmonic Orchestra and the College of Music, Mahidol University value the support our audience and the efforts of our musicians and staff. We apologize for the inconvenience. Until such time as the situation with COVID-19 stablizes, we wil accept advance bookings. Announcements regarding upcoming concerts in May will be made after assessing this ongoing situation. Thank you for your understanding and support!
* For those who have made advance bookings for these programs, upgraded seating zones on future concerts can be substituted, more information please the PMH Box Office at 02-849- 6565/6 Ext. 6603,6604,6609 (Monday – Friday at 9.00 a.m. – 5.00 p.m.) *
---
Fire, a word that conjures so many emotions. Prangcharoen's Raging Fire tells of the multi-faceted relationship humans have with fire, from it's violent and destructive power to its soothing and meditative qualities. Opening the program is De Falla's frenetic whirlwind Ritual Fire Dance which leaves both the orchestra and audience breathless. Repighi's Fountains of Rome describes the beauty of an iconic city's fountains. Finally, Maestro José-Luis Novo leads the orchestra in Prokoviev's poignant and final Seventh Symphony.
Concerts:
13 March 2020 / 7.00 p.m. / PMH (Pre-Concert Talk 6.15 p.m.)
14 March 2020 / 4.00 p.m. / PMH (Pre-Concert Talk 3.15 p.m.)
Conductor: José-Luis Novo
Programs:
Manuel DE FALLA: Ritual Fire Dance from El amor brujo
Ottorino RESPIGHI: Fountains of Rome
Narong PRANGCHAROEN: Raging Fire
Sergei PROKOFIEV: Symphony No. 7 in C-sharp minor, Op. 131
Tickets Price: 1500, 1000, 800, 600, 400 Baht
50% discount for Children and students below the age of 25 (or currently studying in an undergraduate program)
Ticket Reservation
Thaiticket Major – www.thaiticketmajor.com / Call Center 02-262-3456
PMH Box Office on TPO Concert Day (Friday since 5.00 p.m. – 9.00 p.m. / Saturday since 2.00 p.m.- 6.00 p.m.)
E-mail: mshall@mahidol.ac.th
Salaya Link shuttle bus available at BTS Bang Wa Station: www.music.mahidol.ac.th/salayalink
Map Unavailable