Date
Date(s) - 20/03/2020 - 21/03/2020

Location
Prince Mahidol Hall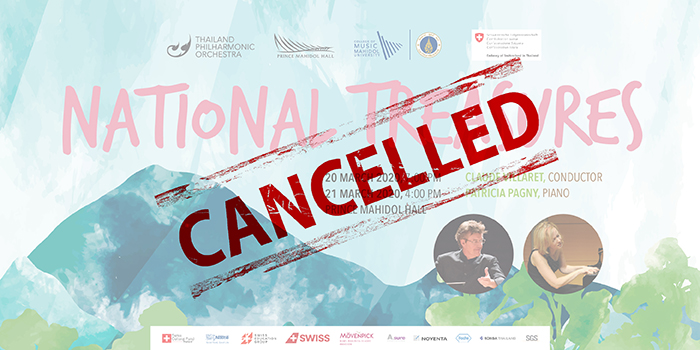 Due to the current situation with the Coronavirus (COVID-19) the Thailand Philharmonic Orchestra will cancel its remaining concerts in March. RAGING FIRE and NATIONAL TREASURES which were to have taken place on 13-14 and 20-21 March 2020 will be CANCELLED.
This difficult decision was made in the interests of prioritizing and protecting the health of our audience, musicians, and venue staff. The Thailand Philharmonic Orchestra and the College of Music, Mahidol University value the support our audience and the efforts of our musicians and staff. We apologize for the inconvenience. Until such time as the situation with COVID-19 stablizes, we wil accept advance bookings. Announcements regarding upcoming concerts in May will be made after assessing this ongoing situation. Thank you for your understanding and support!
* For those who have made advance bookings for these programs, upgraded seating zones on future concerts can be substituted, more information please the PMH Box Office at 02-849- 6565/6 Ext. 6603,6604,6609 (Monday – Friday at 9.00 a.m. – 5.00 p.m.) *
---
Dvorak and Grieg were alike in that they wrote music that reflected that strongly reflected the culture and folk music of their homelands. Dvorak's sixth symphony has been called his "pastorale" symphony as it radiates the beauty and character of the Czech countryside. Grieg, a native of Norway, begins his only piano concerto with the attention-grabbing four-octave piano flourish it has become famous for but what follows are tenderly lyric melodies purely Norwegian in nature. The program opens with Colour-frame by contemporary Swiss composer Renzo Rota.
สองคีตกวี อันโตนิน ดโวชาค และ เอดเวิร์ด กรีก ประพันธ์หลายผลงานที่สะท้อนถึงความรักในบ้านเกิดผ่านสำเนียงดนตรีและบรรยากาศของวัฒนธรรมประเทศตัวเอง ในคอนเสิร์ตนี้ ท่านจะได้ฟังซิมโฟนีหมายเลข 6 ของดโวชาค ที่เจือไปด้วยกลิ่นอายรสชาติของดนตรีเช็ค และคอนแชร์โตสำหรับเปียโนของ เอดเวิร์ด กรีก ที่ผสมสำเนียงดนตรีพื้นบ้านนอร์เวย์
Concerts:
20 March 2020 / 7.00 p.m. / PMH (Pre-Concert Talk 6.15 p.m.)
21 March 2020 / 4.00 p.m. / PMH (Pre-Concert Talk 3.15 p.m.)
Conductor: Claude Villaret
Soloist: Patricia Pagny, piano
Programs:
Renzo ROTA: Colour-frame
Edvard GRIEG: Piano Concerto in A minor, Op. 16
Antonin DVORAK: Symphony No. 6 in D major, Op. 60
Tickets Price: 1500, 1000, 800, 600, 400 Baht
50% discount for Children and students below the age of 25 (or currently studying in an undergraduate program)
Ticket Reservation
Thaiticket Major – www.thaiticketmajor.com / Call Center 02-262-3456
PMH Box Office on TPO Concert Day (Friday since 5.00 p.m. – 9.00 p.m. / Saturday since 2.00 p.m.- 6.00 p.m.)
E-mail: mshall@mahidol.ac.th
Salaya Link shuttle bus available at BTS Bang Wa Station: www.music.mahidol.ac.th/salayalink