Date
Date(s) - 23/09/2020

Location
Music Auditorium, College of Music, Mahidol University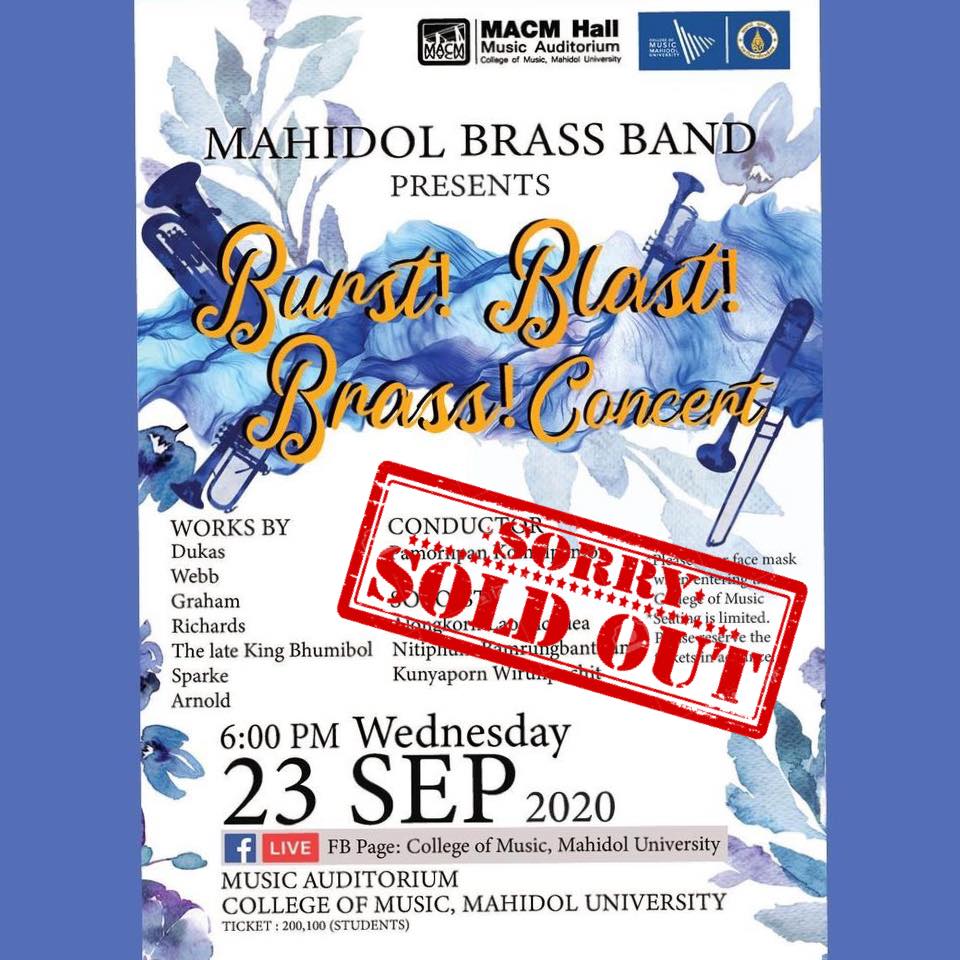 Sold Out! บัตรขายหมดแล้ว
ประกาศ: เนื่องจากมีผู้ที่สนใจคอนเสิร์ต Burst! Blast! Brass! Concert ของ Mahidol Brass Band เป็นจำนวนมาก ขณะนี้บัตรได้ขายหมดแล้ว
วิทยาลัยไม่สามารถรับลูกค้าที่ walk-in มาซื้อบัตรที่หน้างานได้ เนื่องจากที่นั่งมีจำนวนจำกัด ตามมาตรการรักษาความปลอดภัยของผู้เข้าชมการแสดง
สำหรับท่านที่สนใจ สามารถรับชมคอนเสิร์ตทางการ LIVE สด ทางเฟสบุ๊คเพจของ Mahidol Brass Band
วิทยาลัยฯ ขออภัยในความไม่สะดวกมา ณ ที่นี้ และ ขอบคุณสำหรับการสนับสนุนของทุกๆท่านในการจัดการแสดงของเรา
————————————————————————–
September 23, 2020
6.00 p.m. MACM
ฺBurst! Blast! Brass! Concert
Reviving of Mahidol University Brass Band (MU Brass Band) since 2013, We will present a whole program of British Brass Band classic featured brass virtuoso soloists.
For reservation at MACM, College of Music, Mahidol University
please contact Khun Pla mail: mshall@mahidol.ac.th / Tel 0 2849 6565 ext. 6609 or 6604 (Monday-Friday at 9.00 a.m. – 5 p.m.)
The limited number of seats.
Please wear a mask when you are in the performance area.