Date
Date(s) - 23/01/2020 - 25/01/2020

Location
Music Auditorium, College of Music, Mahidol University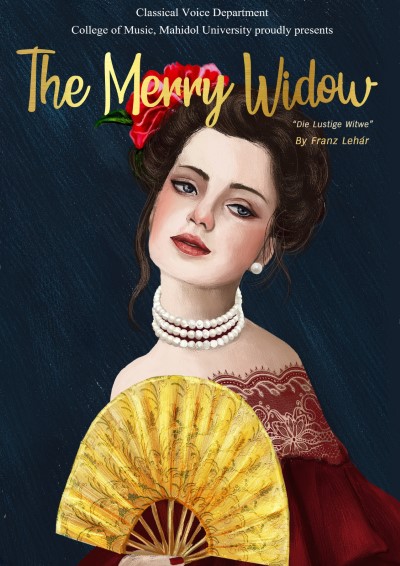 A romantic-comedy musical drama in a form of operetta with live orchestra. "The Merry Widow" or as known as "Die Lustige Witwe" in German is a comic operetta in three acts. Composed by a Hungarian composer Franz Lehár collaborated with two librettists, Viktor Léon and Leo Stein, based upon "L'Attaché d'ambassade" by Henri Meilhac.  It was first performed at the "Theater an der Wien" in Vienna on December 30, 1905. The best-known selections from the operetta are the final waltz duet "Lippen schweigen" which sung by two main characters, Hanna and Danilo and another famous tune is the soprano's aria "Vilja" which sung by Hanna.
The Merry Widow is the most successful work of Franz Lehár and it is one of the most famous operettas in the world which has been performed 483 times consecutively. The show was very well received by the audience, so that people started to look for some items from the show to add in their own collection as a souvenir and also dressed up like the characters in The Merry Widow, it became a fashion at that time.
This operetta has been translated to many languages and has been performed all over the world. Amazing fact about this operetta is that The Merry Widow was a favorite of a former Nazi's leader, Adolf Hitler. This was proved by the fact that he selected the song from The Merry Widow as the first song to celebrate on the event of Austria unite with Nazi German. Hitler used a theme from the operetta to represent the German invasion during the WWII. It has been said that his love of The Merry Widow is excessive, he listened to it over and over again.
This operetta is a story of a beautiful and rich young widow Hanna Glawari who was a daughter of a farmer. She married a millionaire banker but her husband died, so she inherited forty million francs from her late husband. A charming widow decided to go to Paris to start a new life which made the leader of Pontevedro (her own country) worried that she might marry a foreign man and the country will lose all the money that she has. So the leader of the country ordered the ambassador of Pontevedro in Paris Baron Zeta to arrange the marriage for Hanna to marry only the Pontevedrians. Zeta sends for Danilo, an embassy diplomat, to marry Hanna and keep the money in the country. Danilo was Hanna's boyfriend but they were separated because of Danilo's family didn't accept Hanna to be his wife. The story gets more complicated, Danilo now refuses to court Hanna for her fortune, and Hanna vows that she will not marry him until he says "I love you" – something he claims he will never do. While Barron Zeta is arranging the business of saving the country, his wife, Valanciene is courting with a French man, Camille. What will happen next?
The classical voice department of Mahidol university chose The Merry Widow to be the department's performance this year because this is a good opportunity for students to apply their performing art skills in singing, acting and dancing more up to date on the real stage. Moreover, students can further develop and expand the musical skills to cover a variety of activities in operetta to be well rounded in their future career.
This is a very rare occasion to experience the operetta performed by young talented singers. The operetta is suitable for young singers to sing and easy for listeners to listen to, it is not boring but highly memorable tunes. This operetta production will be performed with live orchestra and live singing. The story is very entertaining, fun to see and easy to understand. Every performer has been trained very hard in many skills in order to be part of this operetta.
The Merry Widow is directed by Ajarn Napisi Reyes, a lecturer of musical theater department at the college of music, Mahidol university. As a stage director and lyricist her works include the opera in Thai language "The Story of the Long-Gone Animal". Her works as a stage director in both opera and musical theater include Der Freischütz, The Marriage of Figaro, Hansel and Gretel, Bastien und Bastien, The Impresario, Cosi fan Tutte, Land of Smiles Musical, "21 3 / 4" and Workshop the Musical. Her works as a scriptwriter and lyricist of Thai musical include Inn-Chan the Musical, Phayakong Phayaphan the Musical, etc.
In this performance, the director will take the audience back to the time of Art Nouveau around 1905 but the performance is neither out-of-date nor hard to understand. The audience will experience a romantic-comedy musical drama in operetta style which includes fun and charming characters, exciting story, forbidden love that has to end secretly. Must come and see why The Merry Widow is one of all-time favorite operettas.
Note : Operetta is a lighter version of opera with a frivolous story and spoken dialogue with singing and dancing. The story normally talks about the name of the place that somehow exotic to us.
This is a live music performance with Thai and English subtitle, using a large orchestra conducted by a well-known Thai female conductor Ajarn Pamornpan Komolpamorn.
Performance schedule:
23 January 2020 / 7.00 p.m.
24 January 2020 / 7.00 p.m.
25 January 2020 / 1.30 p.m.
25 January 2020 / 7.00 p.m.
Venue: MACM Hall (Music Auditorium, College of Music, Mahidol university)
For reservation call: 097 323 579
Facebook: MSMU The Merry Widow
Ticket Melon: The Merry Widow
Line: @msvoice