Date
Date(s) - 01/11/2020 - 28/11/2020

Location
Music Auditorium, College of Music, Mahidol University
Mahidol Music (MS) Open House 2020
"Open house for music education and career opportunities"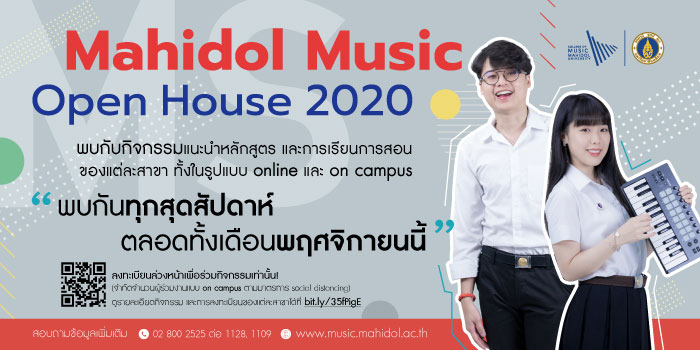 Join the department introduction activity, teaching and learning in each department of the College of Music, throughout this November!
Come and meet with the faculty, alumni and students that will answer to all your questions in the admission, curriculum, teaching and learning as well as the career opportunities in each field.
Every weekend throughout this November, both online and on campus.
Pre-register is required for the event (Limited to 100 participants for on-site according to the social distancing measure and reserved the right for those who are interested in that field first)
Also available LIVE on Facebook,  Stay tuned at https://www.facebook.com/mahidolmusic/
Missed the Open House? Watch LIVE recording on YouTube, Stay tuned at www.youtube.com/user/mahidolmusic
See the schedule and register for each department open house
Date
Time
Venue
Department
Register
Sunday, 1 November 2020
10.00-11.45
MACM
Strings
Click here
13.00-14.45
MACM
Guitar
Click here
Saturday, 7 November 2020
10.00-11.45
MACM
Music Technology
Click here
13.00-14.45
MACM
Thai
Click here
15.00-16.45
MACM
Music Composition
Click here
Sunday, 8 November 2020
10.00-11.45
MACM
Piano
Click here
13.00-14.45
MACM
Music Business
Click here
15.00-16.45
MACM
Music Education
Click here
Saturday, 14 November 2020
10.00-11.45
MACM
Brass and Percussion
Click here
13.00-14.45
MACM
Voice and Musical Theatre
Click here 
15.00-16.45
MACM
Woodwinds
Click here
Sunday, 15 November 2020
10.00-11.45
MACM
Musicology
Click here
13.00-14.45
MACM
Conducting and Ensemble
Click here
15.00-16.45
MACM
Music Therapy
Click here
Saturday, 28 November 2020
10.00-11.45
A407
Jazz
Click here
13.00-14.45
A407
Music Entertainment
Click here