Date
Date(s) - 01/10/2020

Location
Music Auditorium, College of Music, Mahidol University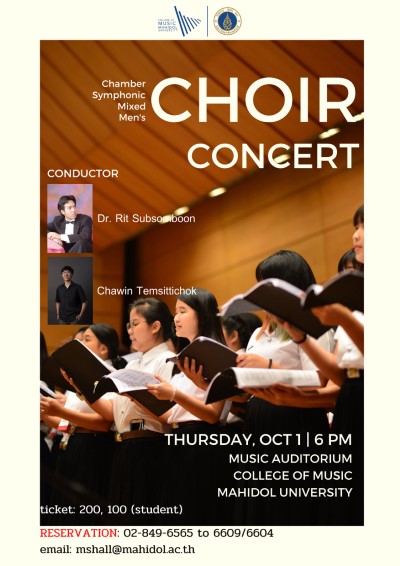 October 1, 2020
6.00 p.m. MACM
Choir Concert
The College of Music, Mahidol University Choir is a large ensemble which offers students a great opportunity to perform a wide range of choral repertoire. These young choristers represent a variety of musical backgrounds and academic disciplines will perform a variety of choral repertoires.
For reservation at MACM, College of Music, Mahidol University
please contact Khun Pla mail: mshall@mahidol.ac.th / Tel 0 2849 6565 ext. 6609 or 6604 (Monday-Friday at 9.00 a.m. – 5 p.m.)
The limited number of seats.
Please wear a mask when you are in the performance area.