Date
Date(s) - 28/12/2020 - 31/01/2021

Location
College of Music, Mahidol University Salaya Campus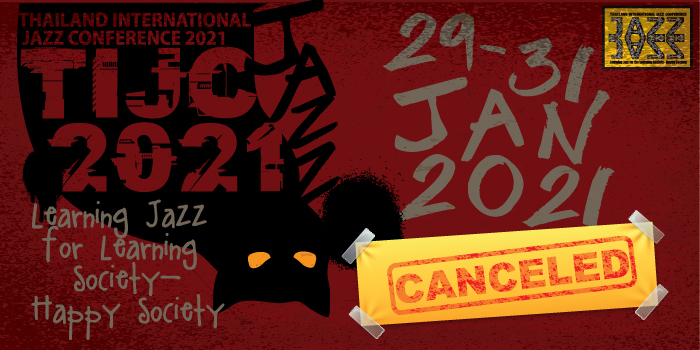 Announcement!! TIJC 2021 is cancelled
The health and safety of attendees and the community is our first priority at the College of Music, Mahidol University. After careful consideration of the ongoing COVID-19 situation and a large number of TIJC 2020's attendees, we are cancelling the Thailand International Jazz Conference 2020 with the following policies and detail:
Thailand International Jazz Conference Composition 2021: The TIJC Team will announce the names of candidates who qualified for the final round as soon as possible. These candidates will be automatically qualified for Thailand International Jazz Conference Composition Competition 2022.
TIJC Youth Camp #2: The TIJC team will announce an update and more information regarding the new date of the TIJC Youth Camp #2. Any applicants who do not want to maintain their application status and wish to refund their application fees, please feel free to contact us at tijcyouthcamp@gmail.com.
The TIJC Team is very much grateful for your interest in our events and activities. We appreciate your understanding of our decision to cancel the TIJC activities and events in 2021. We remain excited and looking forward to hosting TIJC in the year 2022.
Keep jazzing, and we wish everyone a very safe New Year.
TIJC 2021 Team