Date
Date(s) - 29/07/2020 - 15/10/2020

Location
College of Music, Mahidol University Salaya Campus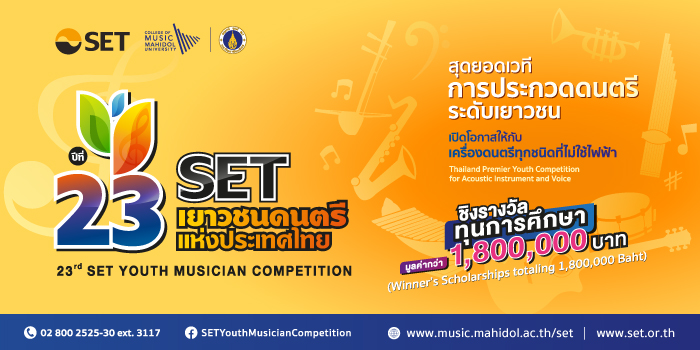 The SET Youth Musician Competition was created in 1997 by the College of Music, Mahidol University and the Stock Exchange of Thailand (2004). The Stock Exchange of Thailand believes that the competition benefits young musicians in Thailand by encouraging them to explore their inner musical creativity and artistry. Contestants can perform in any musical style, using any kind of non-electronic musical instrument or voice. It is regarded as the most open contest in the country, and the judge focus on pure musical expression as basis
for the competition results.
Music Instruments: only acoustic instruments, strictly no electronic instruments
Thai Instruments: Alto xylophone, Dulcimer, Khong Wong Lek, Pong Lang, Chakhe, Voice, etc.
Western Instruments: Flute, Acoustic Guitar, Drum, Trumpet, Cello, Violin, Viola, Voice, etc.
Other Instruments: Guzheng, Traditional Instruments, etc.
Competitors must be studying in Thailand at one of the following levels:
Elementary school
Secondary school
High school
Undergraduate (maximum age 24 years at time of application)
Application fee:
Elementary school: 200 Baht/instrument/song
Secondary school: 300 Baht/instrument/song
High school: 400 Baht/Instrument/song
Undergraduate: 500 Baht/instrument/song
Apply online and for more information, please visit: https://www.music.mahidol.ac.th/set
Application Deadline: October 15, 2020
For more information:
E-mail: setyouthmusician@gmail.com
Phone:(662) 800-2525-34 ต่อ 3107, 3109, 3117
Fax: (662) 800-2530